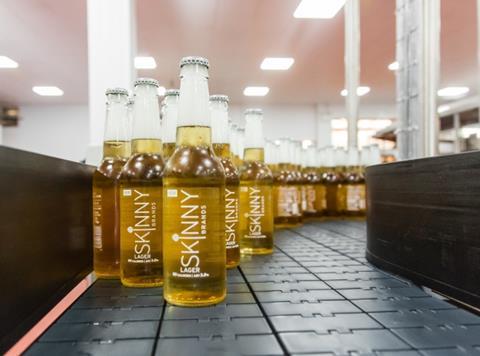 Low-calorie beer brand Skinny Lager has secured its first major grocery listing, launching into Tesco this week.
The 4% abv brew has rolled out in a 12-pack and a four-pack of 330ml bottles. The four-pack is available in 500 Extra and 500 Express stores, while the larger format retailing initially in 250 Extra stores.
Each bottle contains 89 calories, 1.3g of sugar, 3g of carbohydrates and 0.3g of fat. The beer is also vegan and gluten-free.
Its launch is being backed by a "full marketing campaign", which Skinny Lager said would "maximise sales ahead of the final three-day weekend of the summer".
Consumers were "increasingly making healthier choices", said Tom Bell, director of owner SkinnyBrands. "But with the lack of innovation in the sector, they have previously had to turn to low-alcohol options to reduce their calorie intake."
SkinnyBrands' Mojito, Cosmo and Margarita RTDs, launched in Tesco earlier this year, are set to roll in to independent retail outlets nationally over coming months.