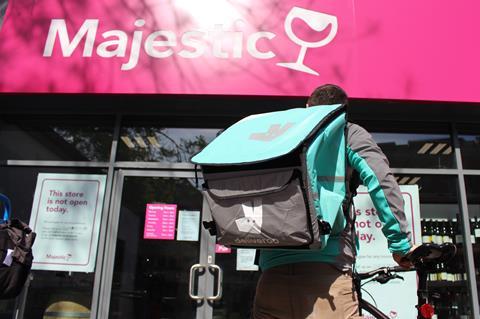 Majestic has boosted its partnership with Deliveroo and unveiled a "specially curated" wine range for home delivery.
The retailer has added 50 new stores across the UK to the delivery giant's app, bringing the total number of Majestic locations working with Deliveroo to 80.
To accompany the expansion, Majestic and Deliveroo have created a range of wines, champagnes and spirits focused on "pairing key food styles to wine matches".
Wines in the range will be priced the same as they would be in Majestic's stores, which Majestic called "a significant move to make sure isolated people have access to everything they need and want".
The retailer was "always looking for new ways to help our customers keep making those discoveries whilst in lockdown and beyond, as safely and interactively as possible", said its chief commercial officer Robert Cooke.
Cooke, a former Tesco booze boss, was promoted to COO at Majestic earlier this month amid a reshuffle which saw the MD of its on-trade commercial arm, Olivia Fitzgerald, step down and former M&S BWS trading boss John Storm join as head of buying.
Former Cath Kidston South & Europe regional manager Deborah Ormondroyd also joined as regional manager for London.
The changes showed "a clear pathway and investment in the future of Majestic", said its CEO John Colley.
"Clearly, right now our focus is on navigating the difficulties presented by the coronavirus outbreak. Whilst our number one priority remains the wellbeing of everyone connected with Majestic, we are also working hard to build a plan and structure which will enable us to grow in the months and years to come."