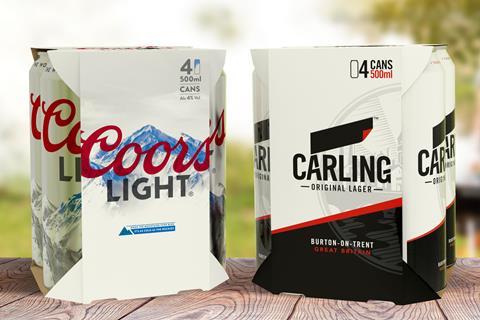 Molson Coors has unveiled plans to ditch plastic from the packaging of its Carling and Coors Light brands by 2021.
The brewing giant said it planned to plough £7.5m into making the changes over the next two years, which will see it completely remove plastic rings and film wrap from the two brands, switching to 100% recyclable cartonboard packs.
Molson Coors had "always taken seriously our responsibility to brew a more sustainable future", said its CEO Mark Hunter. "Plastic waste poses a clear environmental challenge, and as a consumer packaged goods company, we play an important role in helping to solve the global waste crisis."
The brewer has set a further target of 2025 to make 100% of its packaging resuable, recyclable, compostable or biodegradable.
It's not the only beer business cracking down on plastic packs. Diageo announced in April it was removing shrink wrap and plastic ring carriers from Guinness, Smithwick's and Harp packs.
BrewDog, too, has removed plastic from all its packaging, opting for cardboard packs.