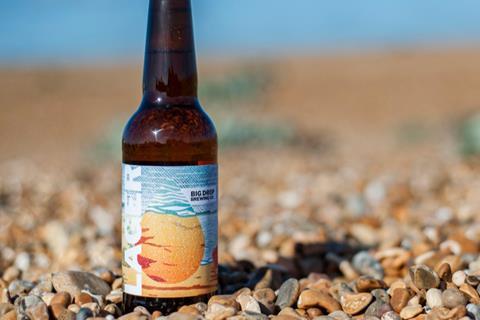 Müller's doorstep delivery service Milk & More has made a surprise move into low-alcohol craft beer delivery.
As of last week, three of Big Drop's 0.5% brews - Lager, Pale Ale and Brown Ale - are available to order through Milk & More's website, and will be delivered by 7am the following day (rsp: £1.99/330ml).
Beer is not the only non-milk brand on sale, with free-range turkeys from Jimmy's Farm and a selection of cheeses also available.
"The exciting element is we don't have to be reined in by the traditional route to market or retailers, and can think much further outside the box," said Big Drop commercial director Nick Worthington.
Milk & More was relaunched by Müller in 2018 amid soaring demand for glass milk bottles and alternatives to plastic packaging, and now boasts more than 500,000 customers.
It further boosted its sustainability credentials when it became the UK's largest electric vehicle operator by expanding its fleet of milk floats to more than 500 in April.
Big Drop Brewery was founded in 2016 and has become one of the leading players in the low and no-alcohol sector.