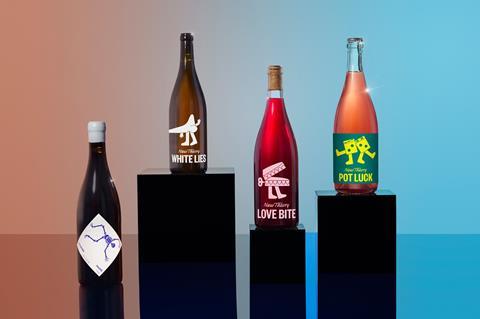 Nascent natural wine brand Nouveau Wine is to rename itself New Theory.
The brand – which is UK-based but produces wine from South African grapes – said the rebrand was reflective of its "new theory" of winemaking, which involves making low intervention wine more accessible to consumers.
"We chose the name Nouveau as a bit of a two fingers up to the establishment and the old French wine terminology," said co-founder Thom Bradley. "It turns out a lot of people didn't really get it.
"The name wasn't doing what we wanted to do in terms of summing up the bigger piece of the brand, which is about culture, design and music."
Bradley said the name New Theory was designed to better reflect the brand's liquid, branding and events programme, which includes wine raves it hosts across London.
"It's another way of getting people to interact with us and discover this new form of unfiltered wine," he added.
The updated branding also includes updates to packaging but the four main SKUs and "characters" associated with them would remain, Bradley said.
It will roll out from today (29 August).
New Theory is about to launch its third vintage since being founded by Bradley and his brother Charlie in 2021.
Bradley said around 120,000 bottles would be available of its 2023-24 vintage, up from 30,000 in 2022-23. He added he expected the brand to reach the 500,000-bottle milestone by 2026.
New Theory's current 150 stockists include Whole Foods Market and Selfridges, as well as independent wine retailers and convenience outlets.
Bradley outlined the wine brand's ambition to grow this number to 800 within 12 months.