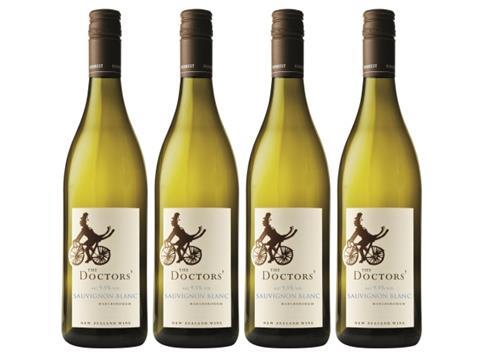 Low-alcohol wine project New Zealand Lighter Wines has scored its first listing in the big four for its Forrest Wines brand.
Forrest Wines' 9.5% abv The Doctors' Sauvignon Blanc has landed on Tesco's shelves (rsp: £9/750ml). It is made with sustainable viticulture techniques that slow the natural ripening process of grapes in the vineyard, so that they can be picked fully ripe but with less sugar - which means less alcohol than their counterparts.
It's the first wine from New Zealand Lighter Wines, an £8.7m initiative led by New Zealand Winegrowers to produce naturally lower in alcohol wines, to get a UK national listing. Eighteen winemakers - including Forrest Wines - have signed up to the initiative so far.
Breaking into Tesco was "a significant milestone in our goal to become the global 'go-to' country for premium lighter wines that are produced naturally and without the need for mechanical alcohol extraction", said New Zealand Winegrowers CEO Philip Gregan.
"This is further proof that we are providing what many retailers and their customers are increasingly demanding - a choice in top quality, varietally expressive wines at lower abvs that do not compromise on traditional winemaking techniques and the premium flavours and quality that New Zealand is famous for."