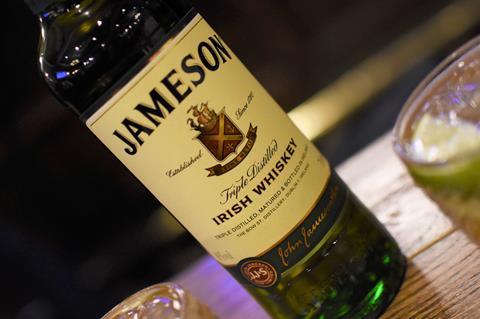 Pernod Ricard is to plough £5m into Christmas marketing this year, upping its spend 70% compared to last year.
The spirits giant will mount campaigns for six key brands over the festive season: Jameson, Chivas Regal, Plymouth, Glenlivet, Campo Viejo and Kahlúa.
It will mount these campaigns later than usual, in an effort to capitalise on growing premium and gifting purchases which rise in frequency towards the latter parts of the festive season.
"Christmas isn't just one long promotional period," said Pernod Ricard commercial director Chris Ellis. "Especially when you think about the last four weeks of Christmas, which is when people are starting to think seriously about gifting and hosting. That's when you see premium really rocket."
There was an opportunity to maximise premium sales by ditching longstanding promotional mechanics like £16/litre deals, he added. "Retailer mindset is all about lapping last year and like-for-like sales growth. This would require someone to unhook themselves from that and be brave and do something different."
Johnny Peacock, Pernod Ricard customer development, strategy & planning director, added: "Could the trade get more out of Christmas? It's so heavily promoted. You see newer occasions, things like Halloween and St Patrick's Day, which are all driving premiumisation – they're growing fast and the average price is going up.
"But then you look at Christmas, where the average price comes down. Hang on a minute. People are treating themselves, being hosts, buying gifts – it's a bit weird that at that period when everyone is excited, the average price comes down."
"The indication that there's more value to be gained at Christmas comes in the last four weeks, when you move from premium spirits (being on average throughout the year about a third of category value) to about 50:50, and you see the average price come up when normally you'd expect to see volume coming down to normal price elasticity, but you see volume going up.
"If you manage to maintain your average price as you move through October, November and December, even if the volume drops a couple of percent, then the trade still gains about £25m retail sales value."
There was "something to be gained for a retailer that is going to experiment", he said. "Someone's got to try it. Of course it's risky but it just feels like a question that should be answered."
It comes as the supplier revealed this week it was partnering with London craft brewery Fourpure for a limited-edition 'Caskmates' whiskey, finished in casks of Fourpure's Shapeshifter IPA (rsp: £30/70cl).