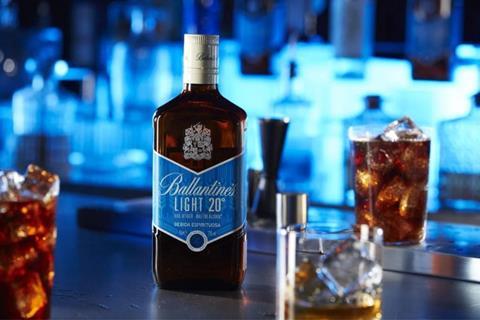 Pernod Ricard looks to be gearing up to introduce a new product from its Ballantine's blended scotch whisky brand.
Allied Domecq Spirits & Wine, the company purchased by Pernod Ricard when it acquired the Ballantine's brand in 2005, has applied to trademark the name 'Ballantine's Sunshine' with the Intellectual Property Office.
The application was made under class 33, covering alcoholic beverages excluding beers.
Ballantine's is the second-biggest scotch globally, according to the Scotch Whisky Association. It sold 9.2 million nine-litre cases worldwide in 2022.
Its global portfolio comprises the flagship Ballantine's Finest, 20% abv Ballantine's Light, lime peel-infused Ballantine's Brasil spirit drink and a number of age-statement variants.
Only the 40% abv Finest is currently available in UK grocery.
Pernod Ricard's scotch whisky arm, Chivas Brothers, declined to comment on Ballantine's new trademark activity.
However, it points to the development of a more accessible expression of the brand – à la Jameson Orange, which Pernod Ricard introduced in the UK in 2021.
The variant was the third largest contributor to sales growth globally for the company in 2022, helping push the Jameson brand past the 10 million nine-litre case mark for the first time.
In February, Pernod Ricard's CEO Alexandre Ricard said the extension was introducing new shoppers to the brand, revealing one in two consumers were new to the Jameson franchise.
"The reality is that consumers absolutely want to see brands experiment with new flavours, new propositions," he said. "And then they like them or they don't. In Jameson Orange's case, they absolutely do.
"It's doing precisely what it was designed to do," he added.