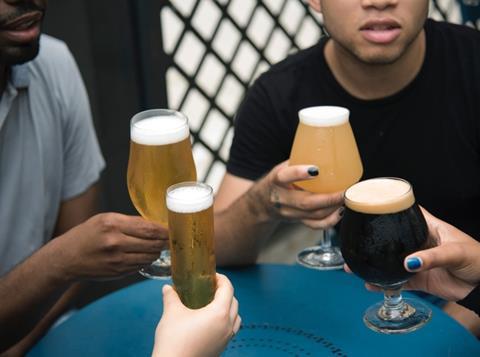 It's official: Britain is now a nation of bona fide IPA-swilling beer snobs.
As we reveal this week, take-home sales of craft beer have smashed the £100m mark this year (hitting a whopping £128m). Which certainly merits a toast. Can everybody raise their glasses of 14% abv Peanut Butter Breakfast Stout, please?
All jokes aside, this is a major milestone for many British craft brewers – and yes, I'm including some that are owned by AB InBev and Heineken in this category. Craft has come of age.
But by no means has the category mellowed. What's changed is that, having been somewhat slow on the uptake, the UK's retailers have now set their sights on leading the category rather than following it.
Despite its size (£128m is not a large category in the grand scheme of things) retailers have begun ploughing unprecedented resources into growing their own, erm… for lack of a less icky term, 'share of throat' when it comes to craft.
Many now have their own knowledgeable specialist beer buyers, having in many cases opted to enlist perky graduates rather than weathered commercial brains. And the supers are finally bringing own label into the equation.
Sainsbury's, for instance, claims its Hyde & Wilde brand, since launching in June, has already become its second biggest selling craft beer. And its well-publicised Future Brands drive has seen it extend into even more niche parts of the craft market, with listings for odd drinks the likes of fruit-infused brew Jubel.
Asda's tie-up with Bad Co on a four-strong range of co-branded craft brews has gone down a storm, too, even netting a Grocer Drink Award earlier this month. M&S has just ushered in a massive update of its craft offer with a wide-ranging tie-up with distributor Real Ale and boosted its own-label collection.
Tesco, meanwhile, has cemented its partnership with the sector's biggest name, BrewDog, having secured exclusive rights to sell its Lost Lager (essentially a trendier competitor to the likes of Peroni and Estrella) and through Booker in wholesale.
Whether BrewDog can make a dent in their sales remains to be seen, but posh European lagers' sector of the market has been without a serious challenger brand for some time. Watch this space.
The message is clear: as the craft beer pie gets bigger, there's no reason the retailers themselves shouldn't bag themselves a slice. And this isn't limited to the supers – Majestic, too, has secured a number of exclusive craft launches over the past year. It is, for instance, one of the few British retailers to stock cult Danish brewer Mikkeller.
That retailers want to play a more significant role in the category with their own products doesn't necessarily mean a harder ride for the sector's brands – the increasing space dedicated to craft has, generally, come at the expense of less fashionable premium bottled ales.
But it does introduce a powerful new factor into the dynamic between them and suppliers. It could also mean a swathe of lucrative own-label contracts may soon be up for grabs.
Craft beer may be getting older, but it's certainly not getting any duller.