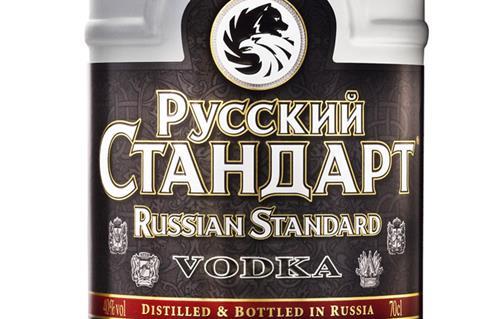 Sainsbury's, Morrisons and the Co-op have delisted Russian Standard Vodka.
Morrisons and the Co-op yesterday (3 March) announced that they were pulling Russian Standard – which is distilled and bottled in St Petersburg – from their shelves.
Sainsbury's today (4 March) also announced that it was delisting the brand.
A spokeswoman for Sainsbury's said the retailer had "decided to remove from sale all products that are 100% sourced from Russia."
As a result, it would no longer sell Russian Standard vodka or Karpayskiye black sunflower seeds, she added.
The retailer will donate £2 million to Comic Relief to support the humanitarian crisis.
"This money will go directly to support the crisis in Ukraine via a range of measures including distributing care packages and ensuring there are child protection measures in place, donating essential supplies to the reception centres as well as medical, legal and trauma support", the spokewoman said.
A spokesman for the Co-op said: "In response to the ongoing invasion of Ukraine by Russian forces and as a sign of solidarity with the people of Ukraine, we've taken the decision to remove from sale Russian-made vodka."
As a result, Russian Standard vodka had been taken off sale with immediate effect as it was produced in the country and was "overtly marketed as being Russian", he added.
"Our members and customers will also be able to support the humanitarian response to help those displaced by the conflict by donating at our stores to the Disasters Emergency Committee (DEC) appeal.
"The appeal will launch across our 2,600 stores today (Thursday 3 March 2022) and we'll be match-funding our customers' donations up to £100,000", he added.
A spokesman for Morrisons, meanwhile, said: "We have taken action on our vodka lines today including delisting Russian Standard."
He added that the retailer had donated £250,000 to the DEC.
It comes after consumers have taken to social media over recent days, calling on supermarkets to remove Russian Standard vodka from sale.
Supermarket websites, meanwhile, have been littered with negative reviews of Russian Standard vodka since the invasion of Ukraine.
Tesco confirmed that it would continue to monitor the situation and follow government guidance.
A Russian Standard UK spokesperson told The Grocer: "We are deeply shocked and saddened by the tragic events unfolding in the Ukraine.
"We are working closely with our grocery partners regarding Russian standard vodka. We respect any decisions they make and will continue to support them in any way we can."
The Grocer has approached Asda for comment.
Earlier this week, Halewood Artisanal Spirits confirmed that it would move production of its JJ Whitley vodka brand from Russia to the UK amid the conflict.
A spokeswoman for Sainsbury's said it had "reviewed all JJ Whitley products which are currently made in Russia".
The retailer supported the Halewood's announcement that it was moving production of its vodka lines to Chorley and would "therefore continue to sell those products", she added.