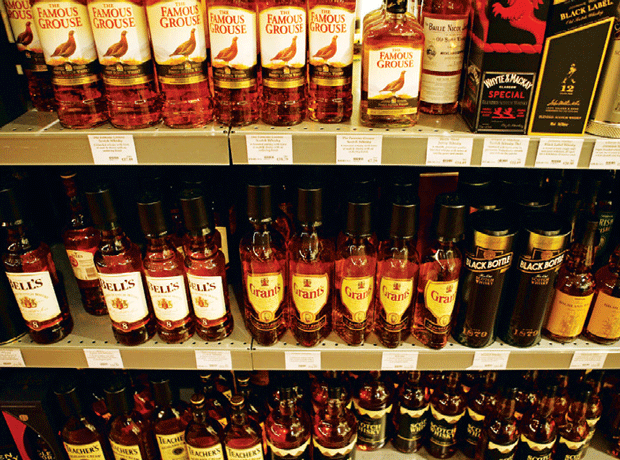 The government's hike in alcohol duty earlier this year left a bitter taste in the mouths of many in the drinks industry.
The Scotch industry is suffering from a particularly painful hangover, according to the Scotch Whisky Association (SWA), which has blamed the hikes for a marked drop in sales since the tax was introduced in March's Budget.
The SWA claims the 3.9% hike has hit UK demand for Scotch to the point where bottle sales have fallen 2.6% since its inception. But as tempting as it may be to blame the taxman for Scotch's misfortunes, there are other factors at play.
Firstly, it seems highly unlikely that government legislation has led to a decrease in consumer demand – unless it's affected prices. But the average price per litre of blended Scotch actually fell by approximated 17p over the 52 weeks ending 21 May 2017 – a 1% decline. Malt whisky is, on average, 68p cheaper [Kantar Worldpanel].
Equally damning is the fact that rum, gin and vodka, also subject to March's tax rise, are all in value and volume growth, even with gin prices up an average of 3.2% year on year. Indeed, pricier spirits are massively in vogue, with drinkers trading up to more premium tipples [Kantar].
The spirits market is booming, largely thanks to the vigour with which gin, rum, vodka and bourbon have embraced cocktail culture. Brands have capitalised by making themselves more appealing to millennials – still the Holy Grail for fmcg marketeers. Blended Scotch, with its age statements, complex flavours and trad branding, has failed to capitalise, and is paying the price (though single malts are still flying off the shelves).
Duty hikes
That's not to deny the unpleasant effect of duty hikes – they have already proved a painful thorn in the side of the industry, and the potential of further rises in the Autumn Budget is cause for serious concern. The Wine & Spirit Trade Association claims it could cost the wine and spirits industries a combined £220m in new liabilities.
But it's overly simplistic to cast Philip Hammond as the sole orchestrator of Scotch's misfortunes. It's all very well railing against what admittedly has felt like an unfair and punitive levy on one of the country's most vital sectors, but if beleaguered Scotch brands want to get back into growth, they need to start considering how to appeal to rapidly changing tastes.
Needless to say, not every brand can – or should – enlist their own football star á la Haig Club (sales of which, coincidentally, are up £8.4m, or 247% [IRI 52 w/e 22 July 2017]). However, refreshing the category will need outside-the-box thinking, not just bemoaning the cards dealt to it by the powers that be.