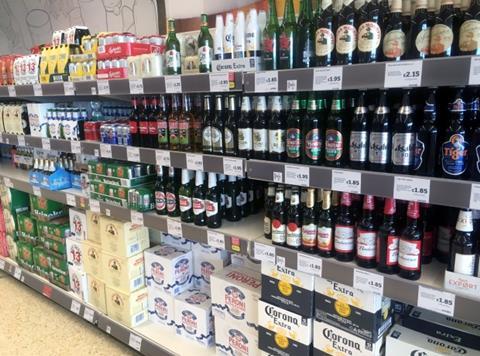 Scotland has moved a step closer to implementing minimum unit pricing (MUP) on booze, with the Scottish government's decision to set a minimum price of 50p.
The decision was made after a public consultation on the issue, with 130 responses received, of which 74.3% were in favour of a 50p minimum. The Scottish parliament is now set to give the price its final signoff.
Scottish health secretary Shona Robinson said MUP would "tackle the scourge of cheap, high-strength drink that causes so much damage to so many families".
The Scottish government previously claimed a 50p minimum price would lead to 121 fewer deaths per year by its 20th year, and 2,000 fewer hospital admissions over the same period. But the policy was stuck in legal purgatory from 2012 to 2017 when it was challenged by the Scotch Whisky Association and European trade bodies on the grounds it breached EU laws on the free movement of goods.
Critics say MUP unfairly penalises moderate drinkers and raises questions about to whom the extra revenue would go.
Aston Manor Cider chief executive Gordon Johncox added: "It will be interesting to see the reaction of Scottish consumers when they realise it is not a tax and that the majority of additional revenue will go to retailers - not the vital support services that have seen several years of cuts."
When MUP was greenlit last year, one industry insider told The Grocer it created "a real danger for mid-market brands that have premium marketing and a lot of money spent on them. All the brands underneath could suddenly disappear from the market because the grocers can't uphold a cascading level of pricing," said the insider.
Other sources have suggested MUP could drive drinkers into the arms of illicit retailers and put them at risk of being sold potentially dangerous fake alcohol.
Aston Manor's Johncox added: "The reality is that those who drink more expensive products that are perceived as better quality will remain unaffected. Meanwhile, the 'just about managing' households will see a hit to their weekly budgets and those in crisis are presented with a 'silver bullet' policy in lieu of the early intervention and direct support that frontline professionals consider the most effective means of reducing harm."
David Cameron vowed to implement MUP in England and Wales in 2012 but reneged on his plans following fierce fightback from the drinks trade - although the Welsh government announced last October it would now seek to impose a minimum price. The law has a 'sunset clause', meaning if it is not deemed to have worked after five years it will be automatically scrapped.