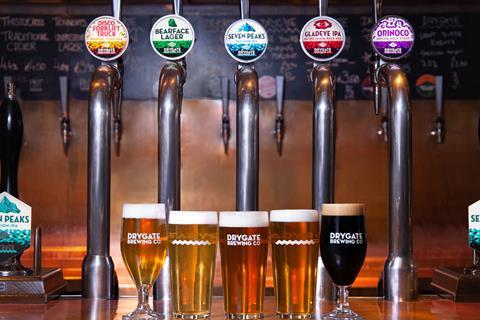 Scottish beer brand Drygate has been given a major reimagining, with an eye to giving it an edge in the "crowded" craft market.
Drygate, a joint venture between drinks giant C&C Group and William Bros Brewing Co, has unveiled a new "unified" identity, featuring geometric designs and "bright, flat colours which celebrate the scientific, precise, and human side of brewing".
It has combined beers from its previous core and 'studio' ranges of beer to create a new core range: Gladeye IPA (5.2% abv), Bearface Lager (4.4%), Disco Forklift Truck (5.1%), Mocha Milk Stour (6%) and Seven Peaks, a session IPA, which has had its alcohol content reduced from 5% to 3.9%.
A 0.5% orange-infused pale ale called Shred is additionally poised to join the range later in the year.
"We feel that to continue to compete in today's crowded market, it is crucial that our range is recognisable and coherent," said Drygate MD Matt Corden. "We've always had exciting and bold branding, but it was important to us that our range felt like a family as we move forward."
It comes as many craft brands are struggling to achieve high rates of sale in the supermarkets, with shoppers opting to try lots of different drinks rather than stay loyal to one brand.
Marston's category manager Jim Hopkins previously told The Grocer: "I've heard buyers saying there is a long trail of SKUs where the rate of sale isn't necessarily that high. Things like BrewDog will be the solid consistent sellers, but once you get past that top 10 it does start to drop off.
"Buyers are conscious of the level of investment that is needed to support these craft listings, but the reality of dealing with the mults is that if you aren't hitting the rate of sale you will be delisted."
Take Kopparberg, for instance, whose 'Crafted Warning' brand was binned by Waitrose, Morrisons and Asda this year when it failed to draw repeat custom.