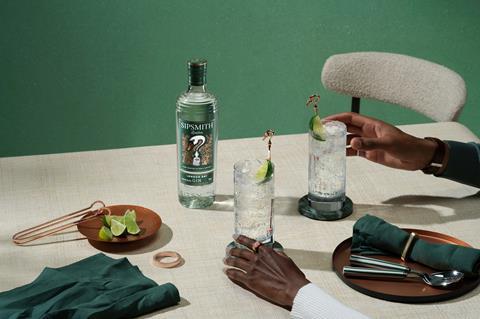 Sipsmith, the Beam Suntory owned gin brand, has unveiled a new bottle design for its flagship London Dry expression.
The bottle is now 20% lighter and contains up to 44% recycled content. Its wax-dipped lid has also been removed as part of a bid to reduce the brand's carbon footprint.
The B Corp certified brand said this would save seven tonnes of single-use plastic per year and make the recycling of its bottles easier for consumers.
Alongside sustainability improvements, the bottle also features an elongated neck with a ripple pattern, which Sipsmith said was inspired by its "water-loving swan motif".
Other changes include a number of easter eggs on front of pack, from a motorcycle scooter to represent the founder's original delivery vehicle, to a scroll representing the new handwritten HMRC certificate awarded to Sipsmith when it opened London's first small batch gin distillery for 200 years.
The new design had already begun to roll out, and the entire range was slated to move across to the new-look packaging "during the end of this year and 2024", Sipsmith said.
"Since we started Sipsmith, our ethos has always been one of constant improvement," said Sipsmith co-founder Sam Galsworthy. "This beautiful new bottle design shows that it is possible to reduce environmental impact significantly without compromising the quality of the packaging.
"The joy for me here is in all the details – from a more sustainable closure to some hidden gems within the design. When you hold it in your hand, it's far easier to pour from, which will please bartenders and sippers alike. We are thrilled to get it out into the world and continue to make our gin the very best it can be."