It's no longer enough for stars to simply lend their names and faces to a brand – as a new generation of 'hands on' celebs are proving in the booze aisles
Nothing says star power like a billion dollars. That's what Diageo paid, in 2017, for Casamigos, the tequila brand co-founded in 2013 by George Clooney. Whether Diageo would have paid so much for the brand if it didn't come with Clooney is debatable, but it feels unlikely. What's for sure is that the Diageo-Clooney deal is a fine example of an ever-growing trend, where rather than gazing into the camera and raising a glass, celebrities get involved in the creation of the drink itself - then gaze into the camera and raise a glass.
What was once a fun novelty, like Danny DeVito making limoncello in 2007, is now big business, as that billion-dollar deal proves.

There is a "long history of celebrity association with spirit brands but recently we are seeing more of an invested relationship between celebrity and brand," says Jason Cobbold, CEO at advertising agency BMB.

It's because consumers are "more cynical to marketing than ever before, and certainly sceptical of [mere] celebrity endorsements," says Zaid Al-Zaidy, CEO of branding experts The Beyond Collective. "Involvement in an alcohol brand meets the requisite level of authenticity, and the inevitable social media promotion has proven time and time again to add value. George Clooney making more money from tequila than movies says it all."

Still, even if a famous face is involved, right down to squishing grapes in a dusty vineyard, if the end result isn't a delicious drink, it won't work, says Simon Wright, MD of brand experts Greenwich Design. "Whether it works comes down to the quality of the product. Having a celebrity name on an alcohol brand will generate publicity and, assuming you relate to the celebrity, might make you try the product as a novelty, but if the quality isn't there you won't buy it again. Paul Newman's dressings are still on the shelf today, despite the fact that they were probably created as a vanity project. They were tasty enough for people to go back and buy them again."

As a result, celebrities need to be "very careful, especially when putting their name to a new alcohol brand. If the product fails, it may well be seen as the celebrity's failure even if they are doing nothing more than attaching their name to the product. It's important that they, or their managers, do due diligence into the long-term viability and not just look at it as a quick money-maker."
"Developing a separate identity, with a unique personality, makes for a more sustainable strategy"
But if you can cross the two successfully, blending premium quality and Hollywood glamour, it's perfect. Brad Pitt and Angelina Jolie's vineyard in Provence already has "great appeal purely as a wine estate," says Co-op wine buyer Ben Cahill. "Its location and terroir are perfect for producing top-class wines. When you sprinkle a little bit of A-list stardust on top for good measure, you have an irresistible recipe."

It also allowed the Co-op to announce a "world first" and reap the publicity when it exclusively listed Studio by Miraval, Brangelina's new, more affordably priced bottle. It attracted significantly more hype than a £12 bottle of rosé would normally get.

Not that it always goes according to plan. Pharrell Williams might have made some of the biggest-selling records of the past few years but his Qream cream liqueur flopped in acrimonious circumstances, ending up in a $5m lawsuit. Williams blamed Diageo for making "critical and avoidable" marketing mistakes. Meanwhile, Danny DeVito's Limoncello eventually ran dry, while Hanson's Mmmhops craft beer has some very average reviews.

"Our consumer research shows product launches with celebrity involvement can be risky," says Nick Lawton, CEO of launch marketing agency Five by Five. "Only 3% of consumers believe celebrity endorsement makes a product launch stand out, while only 7% say they actually noticed a launch because a celebrity or influencer mentioned it."

However, it can be done successfully, he adds. Clooney and Ryan Reynolds' successes "bear similar hallmarks. First, they've been smart enough not to attach their names to their brands. Developing a separate identity, with a unique personality, makes for a more sustainable strategy. Second, they've been clever with their partnerships, showing their business acumen. The third reason is that being involved in the drink-making process adds brand credibility."

And famous faces always resonate with the human brain, says Neil Davidson, MD of behavioural communications agency, HeyHuman. He says the industry has "long debated the power of celebrity endorsement. We conducted neuroscience research, and the results showed that content shared by celebrities on social media is more engaging than brands sharing the same content."

But he also says brands "often underestimate the significance of celebrity-owned products. They regularly invite celebs to front their campaigns, but asking them to invest in and become a part of the brand seems like a step too far for some. There are many reasons for this, the main one being that having a celebrity-owned product is a risk. However, if you are able to find a celebrity you trust, then neuroscience shows that you could reap the rewards. You are going to have more cut-through if you have a celebrity whose name is actually invested in an alcohol brand, rather than just having them as an influencer or ambassador for an existing product."

No doubt George Clooney, who turned his $600,000 investment into a potential $333m return, would testify - and raise a shot of tequila - to that.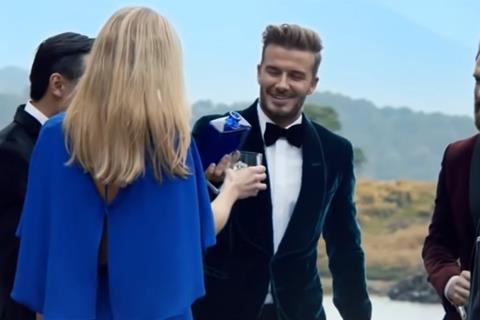 David Beckham
Range: Haig Club, Haig Clubman
Price: £25-£40
Launched: 2014
Buy: Online, retail
Booze doesn't always go hand-in-hand with footballers, but David Beckham, whose right foot graced Manchester United, Real Madrid and England, loves good whisky. "Having David Beckham involved was fantastic. He is an avid whisky fan so to have him as a partner, as opposed to just having his face on the brand, is what made it successful," says Jakki Jones, senior director of talent and influencer relations at PMK BNC, who handled the global PR for the launch. "People bought into his passion for it, people believed it."
She says Beckham had a "huge amount of involvement, going to the distillery very early on with the Haig estate. You can see transactional celebrity endorsements a mile off and unless it's genuine it's not going to cut through. This collaboration worked because he did the work, he wasn't just there for the launch and a photoshoot with Getty Images, he toured the world. He's invested time, passion and belief in the project and he wants it to be a success. And it's up there with one of the most successful launches ever."
Like Miraval, the range broadened with the release of a bottle with a lower rsp of £25. "It's clever when they add a lower price point to make it more affordable," says Jones. "You widen the net but you still have a premium brand. It's like Stella McCartney collaborating with H&M, it's mass market but the brand remains aspirational."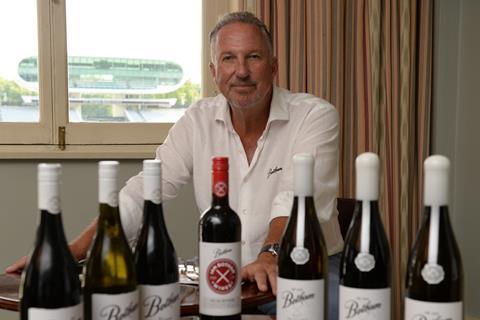 Sir Ian Botham
Range: Nine wines
Price: £8 to £42.50
Launched: 2018
Buy: Online, retail
He didn't take a sip until he was 17, but when he did it started a long love affair with wine. Now England's greatest-ever cricketer has launched Ian Botham Wines alongside Benchmark Drinks. And he was heavily involved every step of the way, spending a "considerable amount of time working with some of the most renowned winemakers in Australia and New Zealand" he says. "I truly believe the wines we've bought to market are exceptional varietal examples from their respective regions. I knew the style of wine I was looking for, and I wanted to bring exceptional but fairly priced wines to market. We are looking forward to presenting new origins and products in the near future."
Paul Schaafsma, MD of Benchmark Drinks, says Botham's "relentless enthusiasm and passion to find the best possible wines has driven this project. Ian understood exactly the style and quality he wanted to achieve and was not swayed at any turn. So many blends, in some cases up to 300, were rejected in the process, we just didn't stop looking until the smile appeared on his face that confirmed we had found it."
Botham says "only when a wine was good enough to go on my own table" would it make it into the range, which is listed in Berry Bros & Rudd, Morrisons, Booths and Waitrose. He's also working on the release of a new London Dry Gin, due to launch later this year.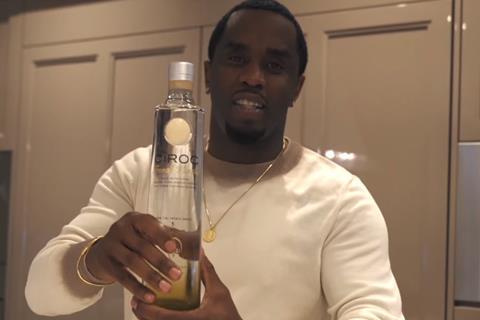 Sean Combs (P Diddy)
Range: 10 vodkas and a brandy
Price: £35 (70cl)
Launched: 2003
Buy: Online, retail
Lots of rappers have their own booze brand: Jay-Z has D'ussé cognac and Ace of Spades champagne, Nicki Minaj has Myx, Ludacris has Conjure Cognac and Lil Jon has Crunk Juice. But no one parties like Puffy, aka P Diddy, real name Sean Combs. Say what you like about his flow, but he has done wonders for the Cîroc brand. Cîroc launched in 2003 but Diageo says it "made spirits history" by teaming up with Diddy in 2007. At the time Cîroc was shifting around 40,000 cases every year - today it sells over two million. Last year Cîroc diversified into hip-hop favourite brandy. "Cîroc consumers drink aged brown spirits alongside Cîroc Vodka," says Combs, "so it was obvious that it was time to take Cîroc further than it had ever gone."
Francis Ford Coppola
Range: 74 wines
Price: $12-$120
Launch: 1975
Buy: Online
After he made The Godfather in 1972, Francis Ford Coppola used the profits to buy his first vineyard. Then he made The Godfather II and Apocalypse Now. But his ongoing passion for wine saw him purchase his winery in 2006, renovating and re-opening it in 2010 with wine-tasting bars, restaurants, swimming pool, movie gallery and a park. The director says the winery is meant to be "a wine wonderland, a park of pleasure where people of all ages can enjoy all the best things in life - food, wine, music, dancing, games, swimming and performances of all types. A place to celebrate the love of life."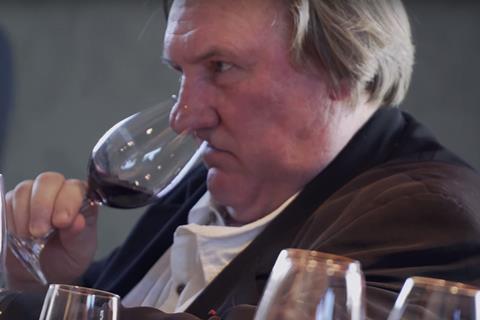 Gérard Depardieu
Range: 13 wines
Price: £11-£60
Launch: 1989
Buy: Online
If you ever worry you're drinking too much wine, have a quick word with Gérard Depardieu, who once confessed to sinking 14 bottles a day. Such prodigious consumption meant it was probably cheaper for the legendary French actor to buy his own vineyard than keep trooping off to Carrefour to fill a trolley every day. His wine has won dozens of medals, with one critic describing his Pinot Black 2016 as "almost perfect".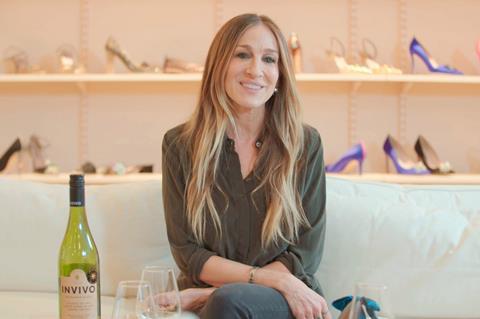 Sarah Jessica Parker
Range: Two wines
Price: TBC
Launch: This summer
Buy: TBC
She's more famous for sipping Cosmos in NYC, but in the summer SJP will release a range with Invivo Wines, in what she describes as a "collaborative process. I am a true wine lover so this is a very exciting and fun project for me. I'm so looking forward to every single stage of the creation process and I intend to be very hands-on throughout."
Parker "resonates really well with the drinkers we are after," says Invivo's Tim Lightbourne. "We pitched to her agent, she got on the phone and talked about how passionate she is about wine, what she likes about it and how she drinks it. We will be with her in May to do the blending process where she will taste through several samples, and it's going to be really interesting to see what blend she picks. She's also been hands-on for the branding process."
Invivo will also travel to Provence in a couple of months to meet with growers and bring back some samples for Parker to help blend a Provencal Rosé, to launch in March next year.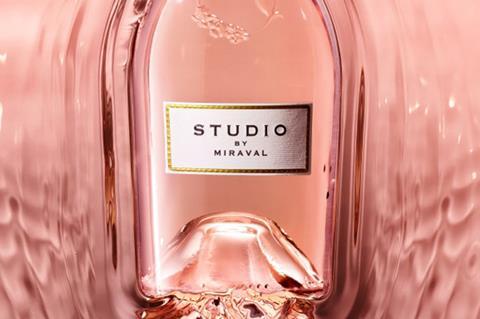 Brad Pitt & Angelina Jolie
Range: Miraval Rosé, Miraval Studio
Price: £12-£19.99
Launched: 2012
Buy: Online, retail
The marriage is over, but Brad Pitt and Angelina Jolie's vineyard, Miraval-Provence, is still going strong. The couple bought it for a reported $60m in 2008, got married there and released the first bottle, Miraval Rosé, in 2012. It sold out in five hours (you can pick up a bottle on eBay for £500). In February, it broadened its range and released Studio by Miraval exclusively into the Co-op for £12.
Brangelina's vineyard was born out of a joint venture with Famille Perrin. Andrew Bayley, UK general manager at Famille Perrin, says Pitt and Jolie "bought the estate along with the vineyards after holidaying at Miraval for a number of years. Appreciation of Chateau de Beaucastel led them to the Famille Perrin for discussions on the vineyards and Miraval-Provence was established."
Both actors are busy being Hollywood megastars, but Bayley says there is a "genuine interest in being involved, particularly from Brad, from a design point of view, and obviously they have an interest in the winemaking", though that aspect of the process is "very much the domain of the Famille Perrin".
To add to the range further, Bayley says Miraval will release an "extremely limited quantity of our newly created cuvée Muse in magnum only in the on-trade and specialist high-end retail this summer."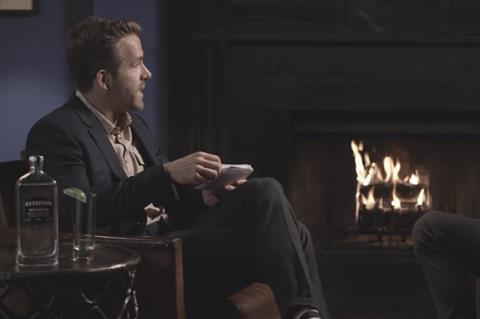 Ryan Reynolds
Range: Aviation Gin
Price: £36
Launched: 2005
Buy: Online, retail
Ryan Reynolds is funny. He's also the owner of Aviation American Gin, which he snapped up in February 2018 for an undisclosed sum. Also undisclosed is how much part Reynolds plays in the business side of things, but his marketing is superb. In one promotional video he reveals the citrus fruits used in the production of the gin are "misted with the tears of Aviation's owner: me, Ryan Reynolds". He also says "I've tried every gin on the planet and Aviation is, hands down, the best. Also, I don't recommend trying every gin on the planet. Stick with this one."
The partnership works "because he hasn't just sold his image to a product and then walked away," says Rahul Titus, head of influence at Ogilvy UK. "He bought the brand and the gin is a portrayed as a genuine extension of his personal image. He can create videos about the process of the gin creation whilst his wife Blake Lively is sipping the gin in an interview. The brand is a genuine investment within their life."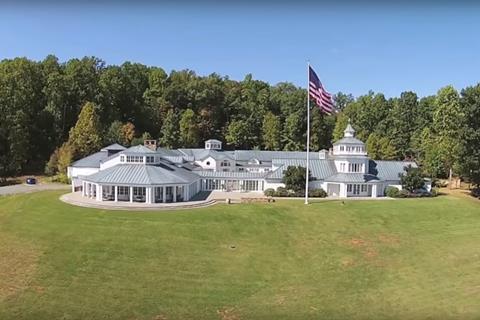 Donald Trump
Range: A dozen red, white and sparkling wines
Price: $18-$80
Launched: 2011
Buy: Online
Trump bought his 1,300-acre vineyard in Virginia in 2011, though it's now owned and run by his son, Eric. It produces around 40,000 bottles a year and supplies the restaurant in the Trump Tower. Vanity Fair delivered a vicious verdict when it sent an oenophile along for a tasting in the restaurant, who said the reds on offer were "horrific", with a "terrible, fumy, alcoholic nose". It was kinder about the glass of sparkling Trump Blanc de Blanc, however, saying "I'd get drunk on it at a wedding".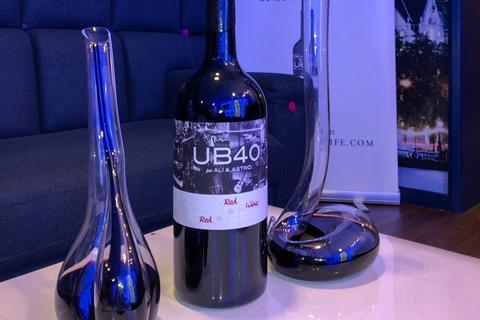 UB40
Range: One wine
Price: £28.50
Launch: 2017
Buy: Online
If UB40 are known for one song it's Red, Red Wine (even if it is a cover of a Neil Diamond track). Singer Ali Campbell picked grapes in Bordeaux when he was 17, which created a "latent desire" to produce wine himself, says Alistair Morrell from Eminent Wines, which produced the Red, Red Wine brand with the band. "In order to be successful, propositions like this have to have integrity and be meaningful, we always want to know the artists has passion and interest invested in the product, so the Bordeaux connection is very nice. And they have been involved in the tasting, the creation of the product, the branding and how it looks." Campbell is set to appear at the London Wine Fair next month taking questions on the wine, which is a "limited edition cuvée. Only 10,000 bottles were produced and it's at the high end of the retail proposition at £28.50. Sales are good and we are looking to do something more mass market."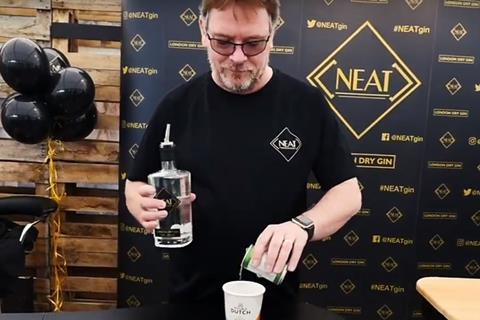 Adam Woodyatt
Range: Neat Gin
Price: £39.95
Launched: 2017
Buy: Online, retail
His life in EastEnders would be enough to make anyone neck booze non-stop, but Adam Woodyatt, who plays Ian Beale, loves gin because he has a passion for it, rather than to black out his wretched life. Dreamed up by Adam and Beverly Woodyatt, the couple says "many drinks endorsed by celebrities are simply that, endorsed. Adam has been the creator of the product and nurtured Neat from creation in the distillery through to labelling the bottles by hand. Not one decision regarding Neat has been taken without Adam and Beverly." And it must be good, Tom Kerridge uses it to make Martinis in his two-Michelin starred Hand & Flowers pub.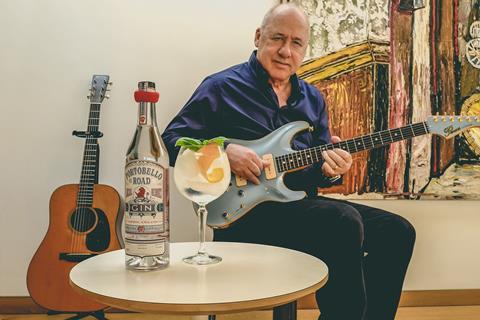 Dire Straits
Range: Local Heroes Gin
Price: £40
Launched: 2019
Buy: Online, retail
Portobello Road Gin regularly collaborates with famous faces for its Local Heroes releases and in March it released a gin with Mark Knopfler, who was "incredibly involved in the project" to create a gin based on his own personal preferences. "I'm incredibly proud of the results," says Knopfler. "It is robust in flavour and strong in spice, exactly the kind of gin I enjoy."
He also handled the design of the label, which features guitars, while each bottle comes with a miniature version of Knopfler's signature headband around the neck.
"It has been one of our best launches to date," says Portobello Road brand director Tom Coates. "Sales through our website have been extremely high. This is also the first time one of our special editions has been available for both on and off-trade, no doubt in part due to Mark's profile and reputation as one of the world's greatest guitarists."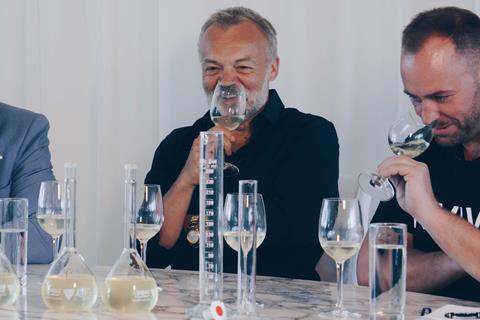 Graham Norton
Range: Four wines, two gins
Price: £9.50-£29
Launched: 2014
Buy: Online, retail
Anyone who watches Graham Norton's show will notice he always has a glass of wine in the background, but he also loves producing it. "We started working with Graham five years ago, starting with around 12,000 bottles and it's grown to three million this year," says Tim Lightbourne, co-founder of Invivo wines, which teamed up with Norton to produce the range.
"The growth has been amazing, it's in nine countries now. His support has been key to its success."
Lightbourne says Norton wanted to be "hands-on from the early days. He wanted sign-off on branding, which retailers we would go with, and which wine to launch first. We wanted to explore all the ways he could be involved without him being at the vineyard, so we take samples of a new vintage and Graham will taste and eliminate those he doesn't like, then we put together the blend and he signs off on it."
Norton is also moving into gin. "He said he would like it to be made in Ireland, so we found a distillery in West Cork," says Lightbourne. "Again we spent a day with him at the distillery and he was asking for the pH levels and picking that out, he's completely into it."
Which celebrities are adding star power to food and drink?
1

2

3

4

5

Currently reading

Star power: 13 celebrity booze ventures and why they work