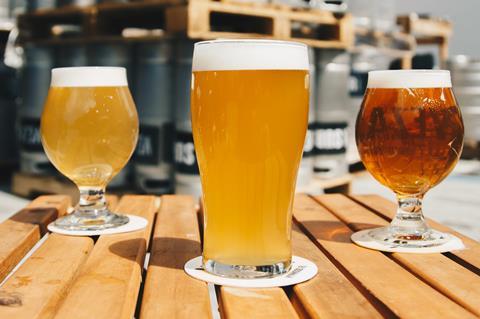 Tesco has given its beer and cider range a major overhaul.
The retailer has slashed a host of SKUs from its shelves over past weeks to make way for a mass of new entrants, latest Edge by Ascential data reveals [52 w/e 16 September 2020].
The supermarket has bid adieu to a number of established brands: it has stopped stocking the likes of Wales' Tiny Rebel, cutting its Pineapple Express IPA, as well as Toast Ale, the beer made from surplus bread.
In cider, 1.25-litre bottles of Lambrini Original, and Orchard Pig's sole SKU have disappeared [Edge].
Notably, Tesco's low & no offer looks to have been given a serious boost, with new listings for a slew of brands such as Sharp's Doom Bar 0%, Lucky Saint, Friels Low Alchol and Leffe 0%. Birra Moretti Alcohol Free, which was initially listed on a WIGIG basis, disappeared some weeks ago but is understood to be due back on Tesco's shelves in multipacks over the coming weeks.
Fresh shelf space was also doled out to craft brewers such as South London's Gipsy Hill, which made its Tesco debut with a trio of SKUs – Ranger Pale Ale, Beatnik Pale Ale, and Hepcat.
BrewDog's ever-growing presence in Tesco was expanded, too, with listings for its Jagged Edge IPA and Layer Cake Marshmallow & Chocolate Stout.
Magic Rock won space for its What Are The Odds IPA and its Murk-Life Balance Hazy Pale, while cult brewery Salt boosted its presence with a collaborative Shoop New England IPA, brewed with Manchester's Pomona Island brewery.
Cider listing include Cranes' Raspberry & Pomegranate, Rekorderlig Watermelon & Citrus, and Kopparberg Pear and Rhubarb flavours [Edge].
Tesco confirmed it had made changes to its low & no and craft beer ranges, but did not offer any further comment.
William Reed – the publisher of The Grocer – has launched a new exhibition exclusively for the low & no category. For more information, visit low2nobev.com.