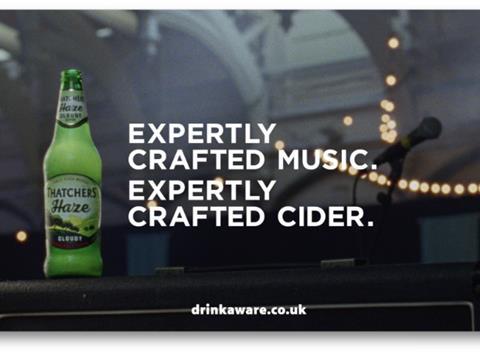 Thatchers Cider has launched an online film campaign for its cloudy Haze variant.
The 30-second commercial, showing now across digital channels including Facebook, YouTube and Instagram, compares the "craft and attention" that goes into making cider and preparing a live music performance, in an effort to "reinforce the association between great cider and great music".
On air until 2 October, the push builds on the cider's The Haze Sessions – a live music event hosted by the Somerset brewer that took place last month.
"Cloudy cider is taking the market by storm in 2016 and Thatchers Haze is making a huge contribution to the category, so the time is right for us to produce our first online film campaign to support the brand within this key audience," said MD Martin Thatcher.
Previously known as Somerset Haze, Thatchers re-named the cider in February this year – a move it said would help the tipple to mirror the brand hierarchy of its flagship variant Thatchers Gold. It supported the relaunch with a "multimillion" campaign.