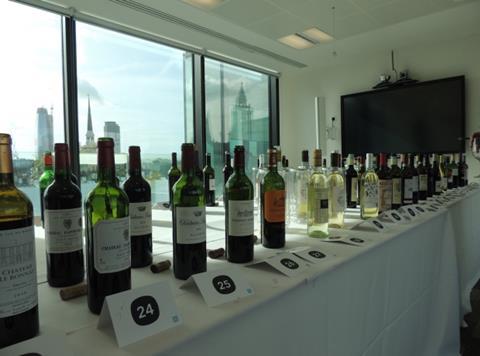 The Co-op has boosted its booze aisles ahead of Christmas with a swathe of new wines.
The retailer has added 73 new SKUs spanning own-label, premium and entry-level wines, which will be rolled out flexibly across appropriate stores within the Co-op's circa-2,600 estate.
"What we've tried to do in the past is find a common denominator in terms of a range that we would put into the vast majority of those 2,500 stores, but that means you end up compromising in certain store types with a range that probably doesn't fit all that well," said BWS category trading manager Simon Cairns told The Grocer. "
"What we're trying to do now is cluster our stores with an affluence overlay - for instance, we would identify a super-premium cluster of stores and find out what the sub-categories are that are really important to their customers, such as champagne - and bolster the range in those areas.
"Conversely, if you're in a store which is in quite a striving demographic, you probably don't need a massive champagne or fine wine range, but what you probably do need is some very affordable new world wine or more of our entry-level own-brand wine because it's relevant to that shopper."
Notable wines joining the Co-op's roster include Treasury Wine Estates' 19 Crimes Cabernet Sauvignon, The Reckoning Old Vine Red, Devil's Rock Riesling, and two 37.5cl SKUs of Chateau Roumieu Sauternes and Domaine de Lasserre Jurancon. It has also added two low-calorie, low-alcohol wines, The Slender White and The Slender Red, both at 8.5% abv (rsp: £6.99).
The retailer used Nielsen EPoS data, overlaid with its own member data, to build the new range, said Cairns, marking a move away from giving buyers sole responsibility for ranging decisions.
"Increasingly we are using our customer teams to mine data, and saying to the buyers that we will give them the best chance of finding a product that's going to be successful because we've done the inside work," he said. "Then they can go fish in a smaller pond to find that right product."
Data analysis would also allow the Co-op to respond to growing cost pressures in wine, he added.
"In a value store we will be taking out some wines where retail prices are going to increase because of the cost pressure, and we do not believe that's a sustainable price point for those stores. Conversely in a super-premium store we may take out some of the entry-level wines and replace them with relevant references which add value back into the category."
It comes as value sales of alcohol at the Co-op grew by 3.2% over the past year. Meanwhile, its share of the booze market is almost 50% higher than its share of total grocery [Kantar Worldpanel 52 w/e 18 June 2017].