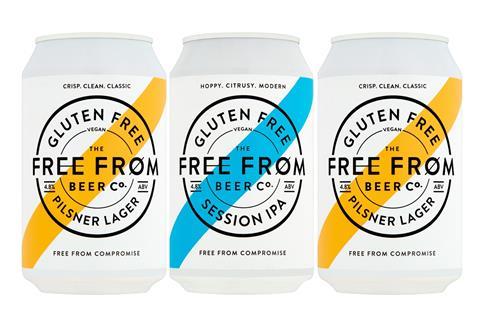 Gluten-free craft beer brand The Free From Beer Co has made its national retail debut in Asda.
The brand's Pilsner Lager and Session IPA (both 4.8%) have launched into the retailer in 330ml cans – the first time Asda has stocked canned gluten-free beers. The drinks are also vegan (rsp: £2).
Gluten is removed from the brews using a natural enzyme during production, which breaks it down during fermentation. This results in a slightly longer brewing process overall.
The brand wanted to take the 'free-from message' from "the back of the bar – where gluten-free versions of major brands have been offered as a 'service line' in bottles for coeliacs, to a draught IPA and pilsner on the front of the bar", said co-founder Mike Sears.
"We've been delighted with consumer and trade response and the move into the take-home trade is a reflection of our confidence that great-tasting, gluten-free beers are a great way to combine the benefits of gluten-free and craft."