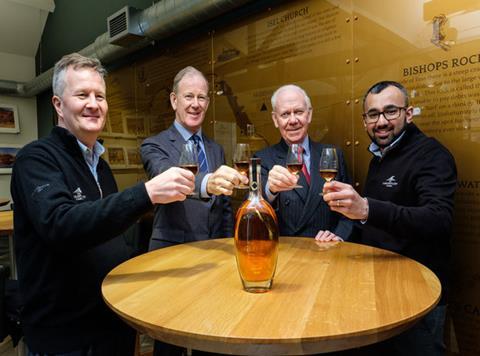 The Lakes Distillery is auctioning off its first batch of single malt whisky, with the business expecting to sell some bottles for several thousand pounds.

The whisky, called Genesis, was first matured in oloroso sherry hogsheads, which the brand's ops director and whiskymaker Dhavall Gandhi said gave it "vibrant character full of dried ginger and wood-spice". The drink is then finished in casks made of American and European oak "to add a layer of dried fruit and vanilla" and orange wine casks from Andalusia, which add "spicy and chocolate-orange character".

Ninety-nine bottles will be available from 29 June to 10 July on whiskyauctioneer.com.

Expectations for the auction were "very high", said Lakes Distillery chairman Alan Rutherford. "We have gathered a large following and there's a lot of interest in the products we are bringing forward. Genesis will be very limited in its supply and very interesting in its quality and so we predict that the first bottles will set a record for English whisky at auction."

It follows a crowdfunding campaign for The Lakes Distillery in November that saw the brand, which also makes gin, vodka and blended whisky, smash its £1m target in two days. It plans to release a swathe of whisky NPD over the coming years, including the Quatrefoil Collection, a four-strong series of single malts launching annually from September 2018, and a new single malt called Oriens in October.

It comes as 'new world' whisky brands - from countries such as England, Denmark, South Africa and even Australia - are steadily growing their presence in the market.

In Scandinavia in particular, many distilleries would soon have whisky ready for export, said Morten Kelsen, owner of Isfjord Whisky, which launched non-peated and peated variants into the UK last year. "That market will expand fast. Diageo has already invested millions into a Danish distillery (Stauning) to be sure they can meet the market demand. But they will be ready in six to seven years."

Australian whisky brand Starward has also set its sights on further growth within the UK, with a swathe of NPD to come over the coming year, including a range of bottled whisky cocktails due for release at Christmas.