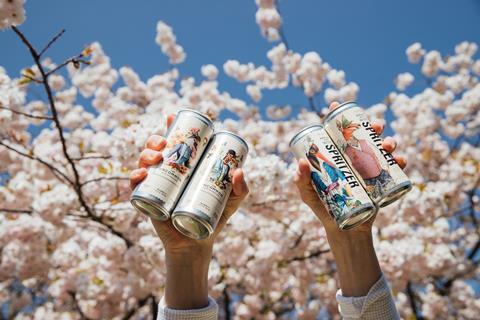 Canned English sparkling wine brand The Uncommon has been certified as a B Corp.
It claims it is "first UK winemaker to achieve this status", having met B Lab's "rigorous social and environmental standards".
The Uncommon scored 107.4 in the assessment – which is considered 'outstanding' – having demonstrated a fully domestic supply chain, with no single-use packaging materials and a commitment to local production, all of which resulted in "a very low footprint", the brand said.
The certification was "a notable step", which signalled "a shift towards greater accountability and transparency in the sector", it added.
It comes as the brand doubled its production in 2021 for the fourth year running, and is preparing to launch two new products in 2022, which will join its existing range of sparkling wines and spritzers.
The Uncommon co-founder Henry Connell said: "We're proud to be the first UK winemaker to join the B Corp community and hope to pave the way for others in the industry to break tradition for the better.
"Our ultimate ambition is to be the most sustainable wine brand in Europe, and we wholeheartedly believe that our format and small footprint has a part to play in the future of the wine industry."
The Uncommon is the latest in a string of booze brands to achieve B Corp status over recent months.
Last February, BrewDog achieved a B Impact Score of 81.8 out of 200, with its highest scores in the workers and environment assessment areas.
In 2020, Bruichladdich Distillery Co, Hattiers Rum and Camden Town Brewery all achieved B Corp status.