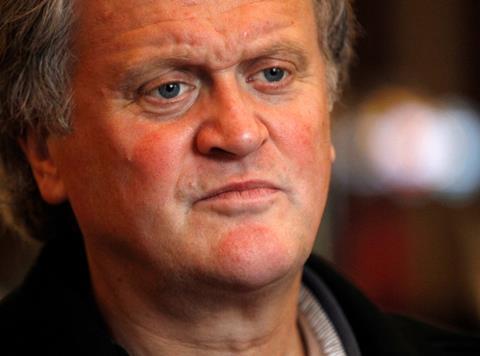 Oft-controversial Wetherspoon chairman Tim Martin this morning unveiled the next step in his personal crusade to alienate every remain-voting pub-goer in the UK: the ditching of a massive raft of drinks from the Continent. Which means – gasp! – no more champagne or German wheat beer for 'Spoons patrons.
Instead, the chain is to stock proper British tipples, such as Kopparberg and renowned Belgian white beer Blue Moon. Hey, wait…
Don't worry – Tim Martin insists these drinks are, erm, fine, because they're actually produced in the UK, or will be by the time Brexit rolls around in the case of Kopparberg.
Stick that in your pipe and smoke it, Juncker, you hegemonic, bourgeois tyrant!
All jokes aside, while Martin's move has all the subtlety of an axe to the face, it could also be a very savvy decision for his business.
Booze cost prices have almost universally surged as a result of the referendum, thanks to its crushing effect on our currency. For Wetherspoon, whose commitment to lower retail prices than any other boozer on the high street is at the heart of its tremendous success, keeping costs down is an absolute necessity.
Having spent the past two years rabidly campaigning for Brexit, this move makes Martin one of the first of the Brexit-supporting business moguls to actually put into practice what he's been preaching. For the sake of credibility, he needs to be able to show that Brexit doesn't have to mean cutting nights out short on tighter purse strings.
If he can demonstrate the viability of a UK and non-EU focused supply chain for booze that still manages to hit customers' sweet points, all the better for him. Indeed, I'd argue this latest move shows more faith in the Brexit cause than many of its advocates in Westminster have been able to muster.
Sure, Martin's done his fair share of bleating about 'bullies' and 'protectionist elites' like the rest of them, but if Wetherspoon's anti-EU range reset is a success, it will lend serious credence to his much-maligned antics.
Which could make some EU brands and suppliers uncomfortable, particularly those who might have previously considered themselves irreplaceable on the back bar, and thus leveraged that positioning to justify recent price increases. It could also provide an opportunity for British brands to get their products in front of a wider audience, which Martin indeed cites as a key motivation. This is no bad thing, considering over the past 10 years English wine and beer has become really quite good. Denbies for instance, which has gained listings, makes some utterly superb slosh.
Then again, Wetherspoon's business model isn't exactly a benchmark for the wider hospitality industry. Posher restaurants will always need to stock champagne. Martin's move almost certainly won't change the way any business that takes wine seriously operates. I doubt Erdinger's accounts will suffer too badly as a result of Wetherspoon delisting its no-alcohol brew to make way for Adnams' Ghost Ship Alcohol Free (which is, by the way, an all-round tastier beer, if you're one of those virtuous types).
And let's be honest, Wetherspoon probably didn't sell that much champagne in the first place.
There's just one problem with all this: there was absolutely nothing stopping Wetherspoon stocking any British or non-EU products before the referendum. Except EU products were cheaper back then, weren't they? Because we hadn't voted to leave the bloody thing!
Shouting about British produce and showing people that a sizeable food and drink operation can work wonders with a supplier base focused away from the EU is welcome indeed, because other businesses are going to have to reckon with it soon enough. But maybe it might have been a good idea to do more of that before the vote, eh? Perhaps then it wouldn't have ended up looking like what it does today: more of the same old point-scoring.
You've got to hand it to Tim Martin, though. The man sure knows how to score headlines.