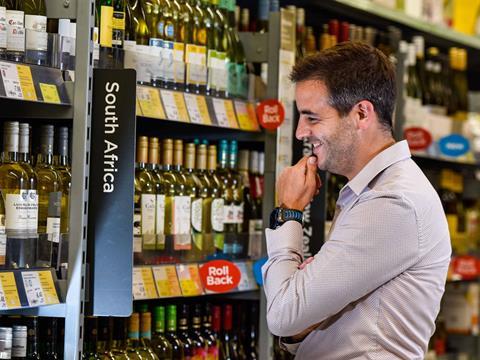 Britain's biggest supermarkets have got a problem with plonk. Barring Tesco, which has reclaimed a significant portion of its previously dwindling share, Sainsbury's, Asda and Morrisons are haemorrhaging vinophiles to convenience and the discounters. So why are drinkers ditching the big boys?

In the case of discounter defectors, the most obvious factor is price. Lidl and Aldi famously offer decent bottles for under £6.

By contrast Sainsbury's, whose market share fell from 17.7% in 2016 to 15.9% this year, is ditching deals. In the four weeks ending 7 May 2017, Sainsbury's ran 15.9% fewer promotions year on year, accounting for a 3.5% drop in average savings [Assosia Promo Dynamic Retailers].

But it can't be all about price. M&S and Co-op have grown market share by positioning themselves as the 'premium' option, offering more upmarket brands alongside well-established own-label lines. "We have become less reliant on promotions and instead opted for an EDLP strategy, which we feel is better," says Co-op BWS category trading manager Simon Cairns, adding that a "renewed" focus on tailoring ranges to individual store locations has led to "significant" growth.
"We focused on not removing choice, just duplication"

Lynsey Yelland, senior wine buying manager, Asda
The targeted nature of these ranges may be key to their success. Prolific wine drinkers may enjoy choosing from a cellar of hundreds but Asda, which has seen its market share fall from 13.5% in 2015 to 12.5% this year, found most Brits prefer a simpler selection. "We found customers were finding our range really complicated and difficult to shop," says Asda's senior wine buying manager Lynsey Yelland.

Meanwhile, Co-op, M&S, Aldi and Lidl specialise in simple, streamlined ranges that appeal to bargain-hungry winos and value-focused shoppers alike.

Lidl attributes a large portion of its success to being able to draw on its buyers across its European businesses for expertise. The discounter curates six wine cellar collections each year, the latest of which hit stores this week with a focus on Hungarian. "It has enabled us to continue to deliver fantastic Wine Cellar collections," says a spokeswoman. "Customers are not presented with an overwhelming selection of wine, rather they are given a concentrated range, which is of excellent quality and value."
How substitutable?
This 'less is more' strategy is one the discounters have in common with Tesco, which has bucked the market share decline among the big four (although it hasn't yet reclaimed its 26.1% share from June 2015).

Tesco was the first of the big four to overhaul its BWS offer this year, announcing plans in March to slash its range by 30% to focus on own label . "They've used data to work out which products are important," says retail consultant John Butler. "They work out the 'customer importance score' and how substitutable a product is - what will customers buy instead? And if you start taking out all the highly substitutable stuff, you end up with a really reduced range that shoppers actually want, with no duplication and fewer out of stocks."

The retailer has also ramped up targeted promotions, which is helping drive growth in spend on wine, says Butler. "If you go around a Tesco now, they're very careful about which products they feel should be promoted, along with how and when they promote them. So you have probably not a lot of volume growth but far more value and higher spend."
Since then, Asda, Sainsbury's and Morrisons have mounted their own wine revamps. Asda has launched a massive crackdown on over-represented varietals and increased focus on its own label over recent months.
"We've had a net 25% reduction in SKUs with the range that's just landed, which also involves us bringing in 100 new lines," says Yelland. "We've focused on range gaps in premium and trend-led NPD. But we've focused on not removing choice, just duplication, for example three or four different pinot grigios at the same price."

It has also adopted a localised strategy similar to the Co-op's, basing store ranges on analysis of sales data.

Sainsbury's has revamped its offer with a boost to own-label and premium lines. And sales of its Taste The Difference wines are up 20% year on year, according to a spokeswoman. "We're also well positioned to benefit from the growing trend of rosé and are already growing our market share - we introduced eight new lines ahead of the summer, including a magnum, and sales are up by around 10%, with premium leading the way as paler, dryer styles from Provence and Bordeaux drive growth."

Morrisons is the only one not to have made any noticeable major changes to its range, and it declined to comment on future plans.

Whether these revamps can quell the supermarkets' losses is up for debate. Yelland says Asda has already received positive feedback from customers, while Butler is confident Sainsbury's can reverse its fortunes as long as its promotional mix is right. "They still haven't found the right mechanic. The challenge they have is that they haven't got the same data as Tesco."

But their rivals will be reluctant to give up their growing share. Aldi and Lidl will be hard to outwit on ranging and pricing, while M&S and the Co-op are well placed to respond to different local demands. The war for the plonk pound is only just getting started.