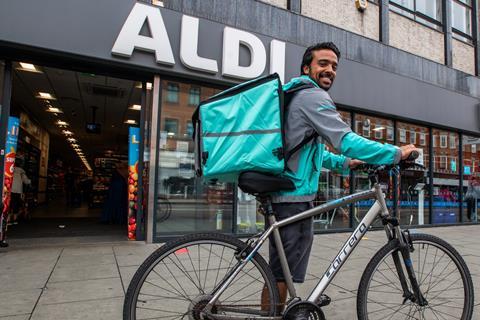 Aldi has more than doubled the size of its Deliveroo trial, rolling out the service from 11 further stores.
They include branches in Greater Manchester and Cambridge, where the service is arriving for the first time, along with five more stores in London.
The 11 join the eight that first offered the service in Nottinghamshire in May and a Camden branch that joined in June.
It means customers living near 20 stores can now choose from around 200 essential Aldi groceries on the Deliveroo app and have them delivered in as little as 30 minutes.
If successful, the Deliveroo service could be rolled out across more stores in other towns and cities across the UK before the end of the year, Aldi said.
"Even as many lockdown restrictions are lifted, we're aware that there are still many people who are shielding and would like to shop at Aldi but can't," said Aldi communications director Richard Thornton.
"In extending this trial further, we are making it even easier for thousands more people in different parts of the country to get hold of great-quality food at Aldi's unbeatable prices."
Deliveroo VP of new business Ajay Lakhwani said: "At Deliveroo we want to play our role in making sure households have access to everything they need and want during Covid-19. This expansion is fantastic news for our customers, who can now enjoy an even wider choice of great-quality food in as little as 30 minutes."
The trial is Aldi's first on-demand grocery delivery service in the UK. The discounter has sold online since 2016 but until recently the offer was limited to general merchandise Specialbuys along with wine, spirits and a small number of ambient products such as coffee pods.
In April, Aldi also launched food parcels, including rice, pasta, UHT milk and canned foods, for scheduled delivery.
The Deliveroo service comes with a £4.99 delivery charge and a mark-up on shelf prices. The products are picked in-store by Aldi staff and delivered by Deliveroo couriers.
Aldi is one of several supermarkets to forge or expand partnerships with Deliveroo during the crisis, along with M&S, Morrisons and the Co-op.
The latest Aldi stores to have joined the Deliveroo trial are:
• Kilburn
• Tottenham
• North Finchley
• Histon Road, Cambridge
They will joined next Monday (20 July) by:
• Manchester Ancoats
• Manchester Arndale
• Didsbury
• Trafford
• Altrincham
• Balham
• Archway, London