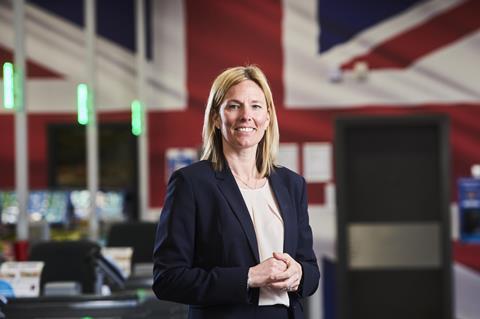 Aldi has extended immediate payment terms for small suppliers until the end of the year.
The discounter was one of the first supermarkets to introduce emergency payment terms to help small suppliers' cashflow as lockdown struck. The move sees over 1,000 Aldi suppliers with a turnover of £1m or under paid immediately.
Aldi set no end date for the terms when they were announced on 24 March, and last month said they would continue until at least September.
Now, Aldi buying MD Julie Ashfield has written to suppliers telling them the terms will continue until the end of 2020. It's the longest commitment yet from a major supermarket to emergency immediate payment terms to ease pressure on small suppliers.
"As we settle into the 'new normal', I want to take a moment to pause and recognise the scale of the challenges we have faced together over the last four months," said Ashfield in her letter.
"Through one of the toughest times for our sector, we kept the nation fed by continuing to provide customers with the great quality affordable food they have come to expect at Aldi.
"We are extremely proud of the relationships we have with you, our suppliers, and these relationships are more important than ever.
"The ongoing partnerships we hold with all of our suppliers are essential to delivering Aldi's price promise to customers. Many of these partnerships have been forged over the past 30 years and we do not intend to change the way we operate.
"Early this year, thanks to your valuable feedback, Aldi topped the GCA's GSCOP survey for the seventh time and we are committed to continuing to treat our partners with respect, whatever the future holds.
"This is why we continue to look for ways we can support those suppliers who need it most. In March, we confirmed that we would be paying small suppliers, those with a turnover of £1m or under, immediately, to help alleviate some of the pressures that the Covid-19 crisis may have caused. I am pleased to confirm that we will be extending this commitment until the end of 2020.
"We know that, as the economic impacts of the pandemic start to become clear, customers will value, more than ever, a simple affordable shopping experience and the ongoing assurance that they are doing the right thing for their families. By sourcing the highest quality food from our trusted suppliers, we continue to offer our customers both these things when they shop at Aldi.
"Thank you once again for your support."
Morrisons – which was the first to announce immediate payments for small suppliers on 13 March – has committed to them until September.
Meanwhile Sainsbury's, which introduced temporary immediate payment terms on 25 March, was due to end them on 15 July. The supermarket said more than 1,500 small businesses with an annual turnover of less than £100,000 would be moved to new, permanent payment terms of 14 days, making them better off than before the crisis.