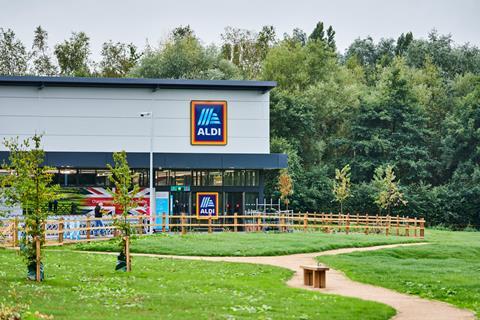 Aldi is giving away free Christmas dinners in low-income areas, in partnership with Company Shop.
The discounter is working with the food redistribution group's Community Shops, social enterprises providing food in low-income communities.
Community Shop members will be able to sign up for a three-course festive meal courtesy of Aldi in the run-up to Christmas, with around 2,000 available, according to the supermarket.
Aldi has worked with Company Shop since around the start of 2023. The partnership sees excess stock from Aldi's network of regional distribution centres redistributed to community stores across the UK.
"Our regional distribution centres work with Company Shop Group all year round, redistributing our surplus stock and donating food to provide affordable groceries for Community Shop members," said Liz Fox, Aldi UK national sustainability director
"This Christmas, we want to do something extra special to show our support, providing Christmas lunch donations to spread some festive joy among those who need it most."
Community Shop executive chairman Gary Stott said: "We're incredibly grateful for Aldi's generosity. Many of our members will feel the impact of the cost of living crisis even more this Christmas and moments like this will help to spread some Christmas cheer and bring our communities together."