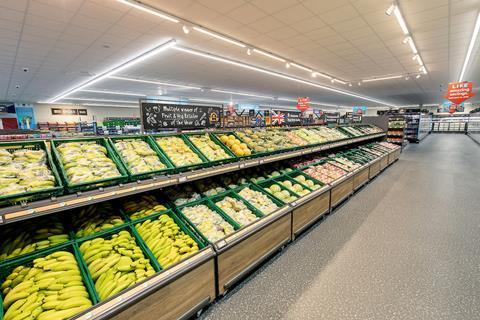 Aldi has announced its biggest round of price cuts this year, on 55 fruit & veg lines – one third of its produce range.
The products are reduced by an average of around 11%. They include bananas, apples, spinach and courgettes, as well as a range of Specially Selected products such as cotton candy grapes.
A number of major grocers have been announcing rounds of price cuts on popular food staples since around May this year, including Tesco, Sainsbury's, Asda, Morrisons, Lidl and M&S, in a battle to be seen to be passing on easing inflationary pressure to shoppers. Aldi – which opened its 1,000th UK store last week – has made more than 100 cuts.
The latest from Aldi come on the same day Waitrose announced price cuts on 250 lines, including maris piper potatoes, whole chickens and red leicester cheese.
"Our promise to our customers is that we will always keep our prices as low as possible," said Aldi UK buying MD Julie Ashfield. "We remain fiercely committed to doing that – now and always.
"This latest price drop is part of our efforts to make healthy, high-quality groceries accessible to everyone. That will always be our mission, and it's why we continue to see shoppers switch to Aldi."
The full list of Aldi's latest price cuts:
| Description | Old price | New price |
| --- | --- | --- |
| Asparagus bundles 250g | £1.99 | £1.79 |
| Beansprouts 400g | £0.95 | £0.79 |
| Beef tomato (each) | £0.57 | £0.49 |
| Blueberries 150g | £1.59 | £1.49 |
| Carrot batons 400g | £0.75 | £0.65 |
| Brussels sprouts 500g | £1.29 | £0.95 |
| Celery sticks 350g | £0.95 | £0.89 |
| Chantenay carrots 500g | £0.95 | £0.75 |
| Classic fruit salad 200g | £1.09 | £0.99 |
| Coconut (each) | £0.75 | £0.59 |
| Conference pears 610g | £1.49 | £1.39 |
| Conference pears four-pack | £1.69 | £1.59 |
| Courgettes 500g | £1.35 | £1.25 |
| Del Monte watermelon 300g | £1.39 | £1.29 |
| Finger chillies 80g | £0.75 | £0.69 |
| Flat nectarines four-pack | £1.39 | £1.29 |
| Royal gala apples six-pack | £1.49 | £1.39 |
| Golden delicious apples six-pack | £1.49 | £1.29 |
| Granny smith apples six-pack | £1.49 | £1.29 |
| Large flat mushrooms 250g | £0.95 | £0.89 |
| Large oranges four-pack | £1.89 | £1.69 |
| Large stir-fry bag 600g | £1.39 | £1.29 |
| Layered vegetables 240g | £1.79 | £1.69 |
| Leeks 500g | £1.29 | £1.19 |
| Mango chunks 240g | £1.99 | £1.79 |
| Melon medley 300g | £1.69 | £1.49 |
| Oranges five-pack | £1.39 | £1.29 |
| | £1.29 | £1.19 |
| Pak choi 250g | £0.99 | £0.89 |
| Pineapple chunks 400g | £1.89 | £1.69 |
| Pinkids apples six-pack | £1.99 | £1.79 |
| Pomegranate (each) | £0.95 | £0.79 |
| Pomegranate seeds 80g | £0.95 | £0.89 |
| Specially Selected cotton candy grapes 400g | £1.89 | £1.69 |
| Specially Selected easy peelers 600g | £1.39 | £1.29 |
| Specially Selected grapes 400g | £1.89 | £1.69 |
| Specially Selected sweet pointed peppers two-pack | £1.29 | £1.19 |
| Purple sprouting broccoli 200g | £1.29 | £1.19 |
| Red gem lettuce two-pack | £0.89 | £0.79 |
| Red grapefruit (each) | £0.48 | £0.39 |
| Runner beans 180g | £0.95 | £0.69 |
| Specially Selected extra fine beans 200g | £1.29 | £1.19 |
| Salad potatoes 1kg | £1.15 | £0.99 |
| Seasonal pears 610g | £1.09 | £0.99 |
| Shredded kale 200g | £0.79 | £0.69 |
| Sliced mushrooms 250g | £0.95 | £0.89 |
| Sweet gem lettuce two-pack | £0.95 | £0.79 |
| Sweet vine ripened tomatoes 255g | £1.15 | £0.99 |
| Sweetbite pepper 190g | £1.35 | £1.19 |
| Sweetheart cabbage (each) | £0.65 | £0.62 |
| Unwashed baby spinach 450g | £1.59 | £1.39 |
| Trimmed sprouts 200g | £1.19 | £0.95 |
| Unwaxed lemons four-pack | £0.95 | £0.79 |
| Everyday Essentials parsnips 500g | £0.55 | £0.50 |
| Vegetable medley 480g | £1.49 | £1.39 |