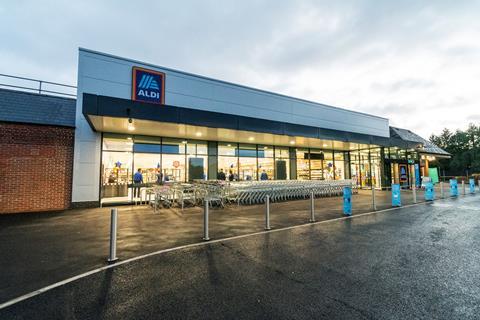 Aldi has opened its 900th UK store as it pushes ahead with its target of 1,200 by 2025.
The discounter is opening stores at a rate of one per week and remains on track to hit its five-year target despite disruption caused by the pandemic.
The 900th store, which opened today in Sandhurst, Berkshire, is also Aldi's 75th in the south east.
Other places to have recently gained an Aldi include Plympton, Holyhead and Market Drayton.
Both Aldi and Lidl confirmed their estate growth targets remained on course in July, following the initial lockdown period. Lidl is aiming for 1,000 by 2023, up from around 800.
Aldi has also said it will create 4,000 jobs and invest £1.3bn in its UK store and distribution network next year.
"Opening our 900th store means that, after years of careful investment in our UK store network, we're another step forward in making Aldi available to as many shoppers as possible, which is more important than ever before as many household budgets become squeezed," said regional MD John Richardson.
"Our 1,000th store is now firmly in sight and we're on track to meet our target of operating 1,200 stores in the UK in five years' time."
Store manager Rob Tandy said: "It's been a wonderful morning here at the opening of Aldi Sandhurst. It was lovely to welcome our new customers into store and I look forward to meeting more of the community in the coming weeks.
"I'd also like to thank our customers for following the social distancing guidelines we have in place to ensure the safety of both our customers and colleagues."
Aldi has moved into online grocery for the first time in the UK this year, launching separate Deliveroo and click & collect trials. The Deliveroo service is currently available from about 40 stores while collect & collect reached its ninth store this week.