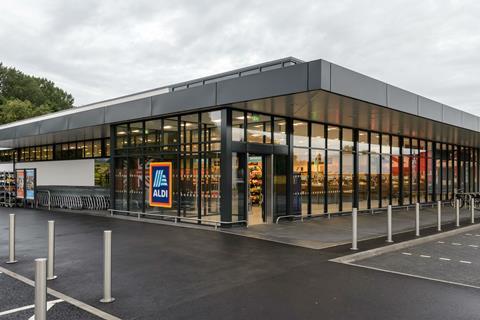 Aldi has overtaken Morrisons in market share for the first time, making it the UK's fourth largest supermarket, according to Nielsen data.

The discounter's market share for the 12 weeks to 23 March was 9.7%, while Morrisons' was 9.6%, according to the data released this morning. In the same period last year, Aldi's share was 8.7% and Morrisons 9.8%.

Tesco's share dropped from 26.9% to 26.5%, Asda's from 13.9% to 13.6% and Sainsbury's from 15% to 14.4%.

Lidl was the only other supermarket to see growth, along with Aldi, with share rising from 5.9% to 6.3%.

The figures contradict those of Kantar, also released this morning, which put Morrisons on 10.3% and Aldi still in fifth place, with 8%.

Both sets of data use a panel of households, extrapolating their spending habits to a national level. Nieslen's panel consists of 15,000 households while Kantar's is 30,000.
The figures also differ on the positions of Asda and Sainsbury's. Kantar's show Asda overtaking Sainsbury's with 15.4% compared to 15.3%, to take second place behind Tesco.

According to the Nielsen data, consumer grocery spending slowed for the third consecutive month, with sales up 1.2% in the last four weeks, lower than the CPI rate of 1.9% and the 2.5% this time last month.

The continued slowdown could be attributed to factors including Brexit uncertainty and rising energy and fuel prices, according to Mike Watkins, Nielsen's head of retailer & business insight.

Watkins said consumer spending cautiousness had "contributed to a rise in sales at the discounters Aldi and Lidl, whose combined market share in the last 12 weeks amounted to a high of 16%".

"Aldi and Lidl are growing sales due to new store openings, and from refurbishing and remodelling existing stores," he added.

Giles Hurley, CEO of Aldi UK and Ireland, said: "At a time of such uncertainty it is clear that customers are trusting Aldi to help make their household budgets go even further. This has cemented our position as the UK's fastest-growing supermarket.

"We are also seeing shoppers bringing some of their Easter spending forward, which we believe is an attempt to help spread the cost. As a result, sales of our Easter Six products have soared."