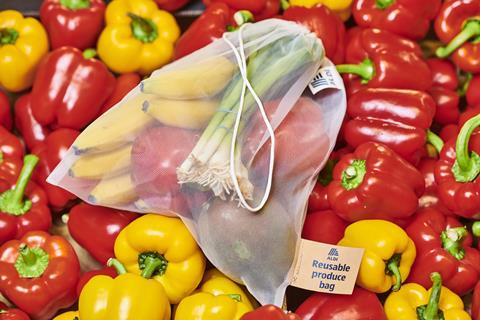 Aldi is scrapping single-use bags for fruit & veg nationwide and offering reusable drawstring ones instead.
The plastic bags will be gone from its 900 UK stores by the end of year, a move that stands to save 100 tonnes of plastic a year, Aldi said.
It follows a trial in 100 Midlands stores earlier this year.
The 25p reusable bags are made from recycled plastic bottles.
"Aldi is committed to reducing plastic waste, and evolving our approach to the sale and distribution of our bags is a critical part of that," said Aldi UK & Ireland plastics & packaging director Chris McKenry.
Rival discounter Lidl claimed a UK supermarket first when it introduced reusable bags for loose fruit & veg in stores nationwide from August last year.