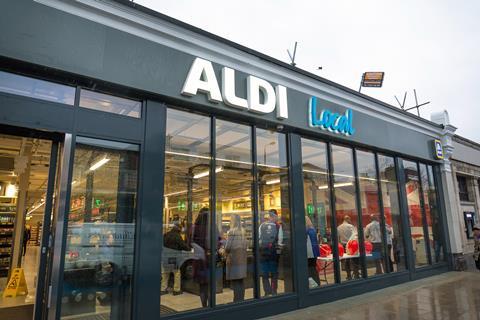 Aldi is rolling its new 'Local' format to smaller stores across London.

Seven stores are to gain the new 'Aldi Local' fascia from next Thursday, including a brand-new branch in a former Waitrose in Camden.

Aldi Local made its debut in April with a new store in Balham of 6,000 sq ft, about half the discounter's typical size.

The new name was to "help shoppers distinguish between smaller city stores in London and the conventional-sized Aldis", a spokesman said at the time.

The store features chilled food to go and food for tonight bays near the entrance, along with a fresh bakery section.

In addition to Camden, six existing smaller stores will be converted to the format. They include Aldi's smallest in the UK, at around 5,000 sq ft, in Archway. The others are in Kilburn, Tooting, Kingston, Romford and Eastcote.

The smaller stores stock a slimmed-down range, with 1,500 products instead of the usual 1,800, and no general merchandise Specialbuys. Lines gone include bigger pack sizes, making the range better suited to the absence of a car park.
It's understood the Balham store has been a success but the format is still regarded as a trial by Aldi. Its reception in the seven new locations, which range from transport Zone 2 to close to the M25, will guide whether it is rolled out even further.

"Camden opens next Thursday and existing stores are being converted the same day," a source told The Grocer.

"Aldi is extending the trial to capture feedback from customers living and working in different parts of the capital before deciding whether to make this a permanent change."

The news comes after Lidl's announcement last week of its first central London store, part of a £500m expansion plan in the capital.

The plans will see Lidl open 40 new stores across London, including its most central yet, a 14,000 sq ft branch on Tottenham Court Road.

The Grocer revealed in April that Lidl had cut its minimum store size requirement for central London from 10,000 sq ft to 7,000 sq ft.