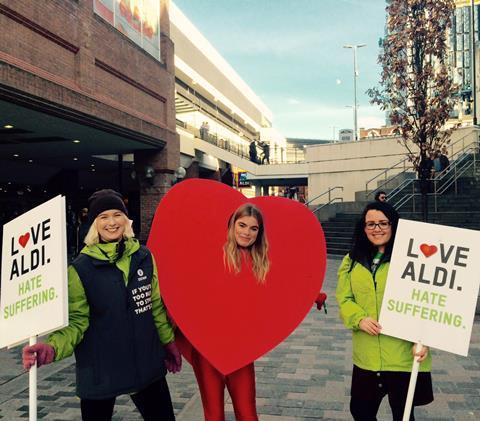 Oxfam is protesting against Aldi over human rights in its supply chain despite recent steps taken by the discounter
The development charity will today deliver "Valentine's Day cards" signed by customers to Aldi's Atherstone headquarters asking the supermarket to do more to protect human rights.
Oxfam campaigners spoke to customers outside Aldi stores in five cities including Manchester and Bristol and obtained signatures for "hundreds" of cards from shoppers who "overwhelmingly agreed", a spokeswoman for the charity said.
Aldi published a human rights policy and appointed an executive to oversee it in December after Oxfam ranked it bottom of six UK supermarkets over its failure to do so.
But the discounter remains bottom of the charity's human rights table because it has "yet to detail how or when it plans to put the policy into action", according to an Oxfam spokeswoman.
Out of a possible hundred, Aldi scores zero for transparency. Oxfam gives it the same score for protecting workers' and women's rights. In only one out of four criteria, covering farmers, does it receive a higher score, of four. Its overall score is one.
Read more: Aldi to appoint human and labour rights director after criticism from Oxfam
It's beaten by Morrisons and Lidl, both with five points, Asda in third place with 17, Sainsbury's second with 18 and Tesco top with 23.
"We respect human rights and have comprehensive checks in place to ensure everyone in our supply chain who makes, grows and supplies our products is treated fairly," an Aldi spokesman said. "Our human rights policies are available to view on our website and we continue to have constructive discussions with Oxfam.
Oxfam's Behind the Barcodes campaign aims to improve conditions and rights for vulnerable workers and farmers in the supply chains of the six supermarkets. The charity assessed each one based on its "policies and practices".
"Millions of people around the world who produce food for UK supermarkets don't earn enough for at least a basic standard of living, are trapped in poverty and are going hungry as a result," said Oxfam's head of private sector Penny Fowler.
She added: "We believe that with the right policies and practices in place, Aldi can have a transformational impact on the lives of the overseas farmers and workers that provide the food for their shelves. We want Aldi to strengthen their commitment by stating how and when they will implement their new human rights policy."