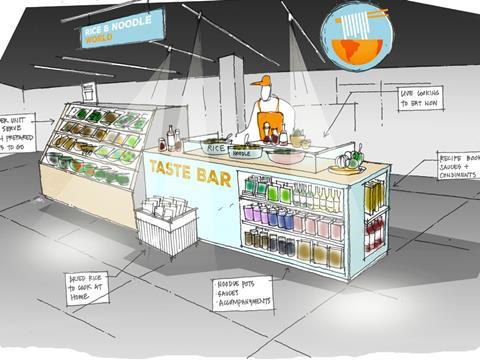 Ambient grub needs freshening up. Canned food sales have crashed £55.6m in the past three years. Heinz is going through the wringer, with ketchup, beans and soup in decline. Princes is sinking fast, as its canned tuna, meat and fruit lines lose space. Many others are in the same boat. Now, rice & noodles brands are engaged in a vicious cat & mouse game with own label.
What can be done?
Retail consultancy M Worldwide (one of their concepts pictured above) has an idea or two. It's come up with concepts for freshening up the fixture for this week's Focus on Rice & Noodles. If brands want to avoid being consigned to the bargain bins and viewed as mere commodities, they need to shout about what makes them special; they need to give shoppers an experience in store, M Worldwide says.
This kind of approach makes sense, given the vogue for far-flung cuisines at present and the ongoing migration away from traditional carbs such as spuds and bread to rice & noodles. By cross-merchandising with ingredients and showcasing serving suggestions in pop-up displays, brands could breathe new life into the supermarkets' dusty ambient aisles.
Brands could also apply this thinking to other struggling sectors, such as canned soups or table sauces. After all, despite recent Kantar data showing the supers have sold roughly six million fewer bottles of ketchup in the past year, a recent study by the Co-op found 81% of Brits still consider the stuff a household essential.
Hifalutin foodies
What's more, the Co-op says 76% of Brits would rather not eat than face tucking into a dish without the right table sauce. Sparking outrage amongst some of the hifalutin foodies here at The Grocer, pizza is one of the foods Brits say need ketchup (along with the more obvious choices such as fish & chips and bacon sarnies). I agree: pizza needs ketchup. There, I've said it. My colleagues are going to tear me apart.
Maybe Heinz should set up a pop-up pizzeria in the sauces aisle?