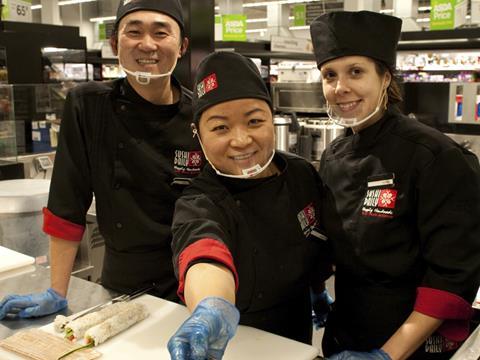 Asda has opened its first ever in-store sushi counter as part of a major refresh of its 100,000 sq ft Patchway store near Bristol.

The counter is operated by Sushi Daily, which also run concessions in Sainsbury's and Waitrose stores.

"We are very excited to collaborate with Asda, bringing their customers a new, engaging experience and delicious, handcrafted sushi," said Sushi Daily MD Daniel Coole. "It's a fantastic opportunity for us all."

It has developed a number of lines for Asda which will be marked with an 'Asda Exclusive' sticker.

"We're proud to be the first Asda store in the country to have the introduction of a sushi counter," said Asda Patchway store manager Matt Dodd.

"It's already proving popular with customers."

The sushi counter is just one of a number of new features at the store, including a café created to look like a rainforest and a new super-fast click & collect facility.

The £8.2m refurb includes a hot takeaway pizza service, a Max Spielmann photo shop and the first ever Max Spielmann barbers. The store's George fixture has also been updated, with digital screens showing footage of the pieces being modelled. These change automatically to match the weather and social trends.

Asda said the store's new café, called the Green Tree Café, was the first of its kind in its store estate, though at present there were no plans for a wider rollout.

Customers can choose from a new premium menu, said Asda, which added it was targeting residents in the major modern housing development in the area.

There is also a new click & collect tower parcel vending machine, the second to be installed in an Asda. The retailer said it would act as a giant parcel vending machine, which customers could use to pick up their online order in under 60 seconds. It will also take returns. The service is also available for selected third party partners including Asos, Missguided and Decathlon.