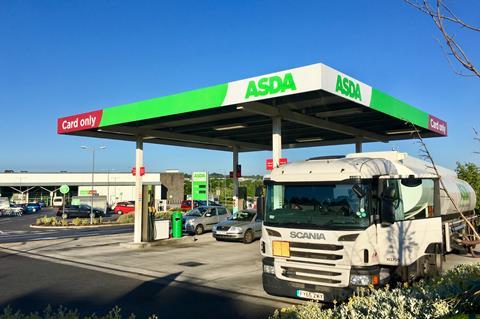 Asda has announced it has agreed to buy EG Group's UK and Ireland operations for an enterprise value of £2.27bn.
The deal will bring together the two businesses, both owned by the by the Issa brothers and investment funds managed by TDR Capital.
The acquisition includes 350 petrol filling station sites and over 1,000 food-to-go locations.
EG Group will retain approximately 30 PFS sites in the UK for wider group development, which will not form part of the transaction.
The "transformational combination" of the two businesses will allow Asda to better serve a combined base of around 21 million customers each week, as well as leveraging Asda's growing loyalty scheme and bringing together convenience, fuel, GM, grocery, foodservice and omnichannel retailing.
Following completion of the transaction, Asda plans to invest more than £150m within the next three years to fully integrate the combined business.
As part of the transaction, the shareholders are providing £450m of additional equity to fund it.
The acquisition will strengthen Asda's financial profile with the contribution of £195m EBITDA after rents, with additional P&L synergies of £100m expected to be generated over the next three years.
The owners of the enlarged business said these synergies mainly arose through economies of scale of the combined entity, higher volumes and cross-selling opportunities from a large and highly complementary customer base.
Asda also expects to realise over £100m of working capital benefits as a result of its enlarged scale.
Asda chair Stuart Rose said: "Asda's acquisition of EG UK and Ireland will create a consumer champion like the UK has never seen. Throughout my career in retail, one thing has always been true, that meeting the evolving needs of customers is the route to growth.
"This transaction is all about driving growth by bringing Asda's heritage in value to even more communities and accelerating the growth of its convenience retail business."
Asda co-owner Mohsin Issa said: "Asda is committed to saving customers precious time and money across their shopping baskets and on the forecourt. The combination of Asda and EG UK&I will be positive news for motorists, as we will be able to bring Asda's highly competitive fuel offer to even more customers."
Gary Lindsay, managing partner at TDR Capital, said: "The combination of Asda and EG UK&I creates a convenience and food retailing champion, with nearly £30bn in annual revenues. The two businesses are highly complementary, bringing together Asda's traditional focus on mid-to-large sized supermarkets and EG UK&I's on convenience retail, foodservice and fuel."
The transaction is expected to close in quarter four of 2023.
It is hoped Asda's acquisition of EG UK&I will open up significant growth opportunities in the growing convenience and foodservice markets.
There have already been 166 EG sites successfully converted to 'Asda on the Move' and all acquired EG UK&I sites will come under the Asda fascia.
This is in addition to Asda's acquisition of 119 convenience sites with attached PFS from the Co-op Group and successful launch of three standalone Asda Express convenience sites since October 2022.
Asda co-owner Mohsin Issa will continue to lead the business through its ongoing integration of the EG UK&I business.
The transaction will be funded by a combination of debt and equity, including £450m of equity provided by shareholders, £770m of term loan debt, as well as £1.1bn from property related transactions.
Asda also today reported "strong" like-for-like sales growth and market share gains from the traditional 'big four' competitors.
Like-for like sales increased by 7.8% in the three months to the end of March compared with the previous year, while total revenues excluding fuel increased by 8% to £5bn.