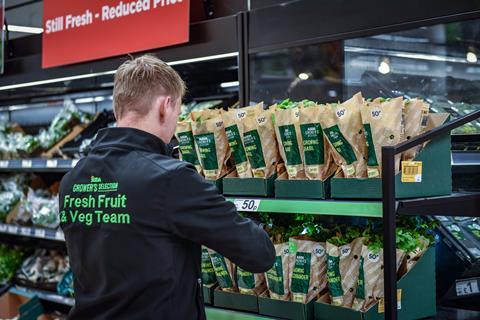 Asda is at the centre of a "fire and rehire" row over plans to axe a pay premium for staff based in the south east.
The supermarket is consulting to end a "legacy" agreement with staff at 39 stores outside the M25, who have historically been hit with higher cost of living expenses.
The GMB union claims Asda has already told workers at the stores they will lose their 60p per hour 'middle band" supplement', saying the move will be introduced in November.
However, the supermarket said the claim was premature and no decision had not yet been made.
Asda began consulting with staff in February at the same time it announced a 10% pay increase for hourly-paid store colleagues, as part of what it billed as a record £141m investment in pay this year.
At the time, the move took Asda from the bottom to the top of the supermarket pay league.
However, GMB accused Asda of employing "slash and burn" tactics and claimed staff who did not agree would have the new contract imposed on them and could be dismissed If they refuse to sign.
Inexcusable
"Cutting the pay of 7,000 low-paid retail workers during a cost of living crisis is inexcusable," said GMB organiser Nadine Houghton.
"The billionaire Issa Brothers and their business partners the multi-millionaire elite private equity fund managers in TDR Capital are restructuring ASDA in preparation for the debt laden merger they are trying to push through with EG Group.
"These slash and burn tactics, along with food and fuel price increases, will only ramp up if the merger goes ahead. TDR and the Issa brothers will be using Asda's revenues to pay off their debt mountain – this is money that should be invested in stores, colleagues and ensuring proper competition in pricing."
An Asda spokesman said: "We are holding a collective consultation in a small number of stores outside the M25 where colleagues are currently paid a legacy location supplement of 60p per hour on top of their existing rate of £11 per hour.
"This supplement is out of line with the wider retail market and has created an anomaly where some Asda colleagues in stores that are close together are paid different rates. As part of this consultation, we are discussing a compensatory payment for colleagues in return for the removal of this location supplement, if the proposal goes ahead. These discussions are ongoing and no final decision has been taken."