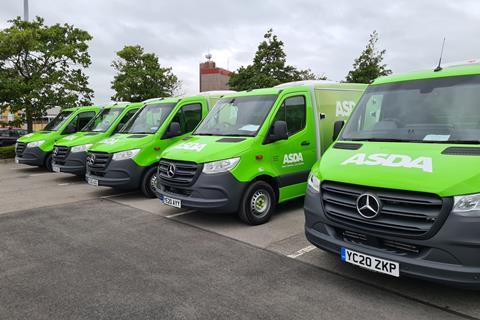 Asda has launched a fleet of bigger and more fuel-efficient online grocery delivery vans which the supermarket says will help drive down carbon emissions.
The vans feature a carbon fibre pod for transporting groceries made by UK firm Penso, built upon Mercedes-Benz Sprinter chassis. The new vehicles – of which there are 25 – are capable of a 10% improvement in miles per gallon.
With significantly increased capacity the fleet will enable the supermarket to "drastically reduce miles on the road" and support the company's commitment to reducing emissions.
The new vans have also been insulated using 5,500 recycled plastic water bottles.
"Stunning payload improvement and a huge capacity increase will help reduce trips, miles and hours on the road," said Asda senior fleet manager Sean Clifton. "Coupled with the sleek, aerodynamic design we are expecting a significant reduction in fuel usage and greenhouse gas emissions. This is just the beginning of what we believe is possible."
"With the backdrop of the pandemic, I'm delighted that we have been able to bring this innovative vehicle into our stores this year. Really looking forward to seeing how our online team can capitalise on its capabilities to deliver for our customers."
The vans will be on roads across the country and utilised first in areas where drivers cover more miles to reach customers, such as remote areas along the east coast, Asda said.
As part of Asda's climate commitment made in January, it vowed to reduce its scope one (which includes company vehicles) and scope two (which covers purchased energy) emissions by 50% by 2025. The retailer has already reduced its energy usage by 20% in stores and uses the same amount of energy as it did in 2005, despite its estate being 200% bigger.
"I'm really excited to launch this fleet of innovative and sustainable grocery home shopping vans which will make a real difference to cutting our carbon footprint," said Simon Gregg, Asda's VP of online grocery home shopping.
"As a business, we are constantly looking at ways we can reduce our carbon emissions, not just because we know that sustainability is important to our customers and colleagues, but because all of us have a responsibility, and it's just the right thing to do, making improvements wherever we can," he added.
In May, Asda rolled out a fleet of 50 electric vehicles, which will be used to ferry orders from stores to click & ­collect points.
According to analysis earlier this year by the World Economic Forum, McKinsey and the World Business Council for Sustainable Development, the rise of online shopping will see the number of delivery vehicles in the top 100 cities increase by 36% over the next decade, with emissions from delivery traffic increasing by 32% without significant action