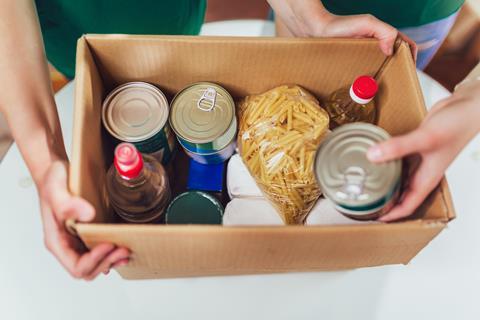 Asda has launched a national food drive to fight hunger and food poverty in the wake of the coronavirus pandemic.
The supermarket is calling on its customers to donate food and hygiene products in the month-long campaign to support people in the local community who are unable to afford essentials.
All donations will go to the store's local food bank, either in the Trussell Trust network or independent operators.
Asda is also, for the first time, launching movable new self-edge labelling in line with items most in need each week from the local food bank to encourage shoppers to donate to the collection trolley in store.
Food banks across the Trussell Trust network have experienced an 89% rise in demand compared with April last year.
"We're always overwhelmed by the sheer volume of donations our generous customers make, not just through initiatives like this food drive, but throughout the year as they continue to donate to our permanent collection points in store," said Asda 'fight hunger manager' Kloe Tegg.
"These donations are making a real difference in their local community, as well as on a larger scale as we support work to tackle the drivers of hunger across the UK."
Trussell Trust CEO Emma Revie added more people have needed food banks than ever since the outbreak of coronavirus.
"Our network is working hard to make sure emergency help is there for people unable to afford the essentials, but we really need your support in Asda stores this month," she said. "It's not right that anyone needs a food bank in the UK, so we're pushing for long-term changes that get money into the pockets of people who most need it. But while we do, food banks need your donations to make sure help is there for anyone who needs it in the coming months. Anything you're able to give will make such a difference."
FareShare CEO Lindsay Boswell said, thanks to Asda, the redistribution charity had received triple the amount of food each week since lockdown measures were introduced.
"It's never been more important to ensure people have access to good, nutritious food and we're grateful to Asda for their support during this critical time," he added.
The £20m partnership between the supermarket and the two charities has enabled FareShare to double its capacity, while allowing the Trussell Trust to provide even more support to people referred to food banks and work towards a future without food banks through better research into the drivers of food bank use.
Earlier this year, Asda donated an additional £5m to the Trussell Trust and FareShare to help the country's most vulnerable people during the Covid-19 crisis. The donation has been split between the two charities and is helping to provide more than four million meals to families who are experiencing poverty, as well as giving more than 3,000 charities the ability to access free food to help tackle the impacts of coronavirus in their communities.
Since 2018, through its Fight Hunger Create Change initiative, Asda has donated more than £23m to FareShare and the Trussell Trust.