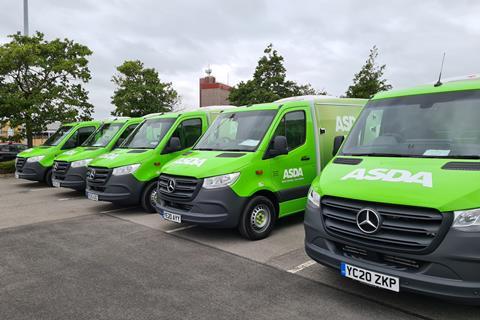 Asda has predicted a major surge towards online shopping over Christmas, with sales figures also showing shoppers are already scaling back portion sizes in the face of lockdown measures.
With the government reported to be planning further measures after the end of the latest lockdown, the supermarket today announced an increase in like-for-like sales excluding fuel of 2.7% for the period covering 1 July to 30 September, which coincided with the end of the first UK-wide shutdown and the reopening of the hospitality sector.
It said the performance had been driven by a strong performance in core grocery and big online growth, with combined net sales for Asda.com and George.com increasing 72% year on year over the period.
Asda, which was last week named Online Supermarket of the Year in the Grocer Gold Awards, said it expected the rapid growth in online shopping to continue during Q4, having increased the capacity of its grocery home shopping service to 765,000 weekly slots.
The supermarket reported a jump in demand for Christmas products but noted a trend for "lockdown-proof" festive essentials as customers start their preparations earlier than in previous years.
Sales of Christmas trees were up by 83% year on year, festive lights by 57%, Christmas puddings by 71% and mince pies by 44%.
It said there were also signs customers are preparing to celebrate Christmas differently this year with smaller gatherings rather than larger groups due to restrictions on meeting friends and family. Sales of frozen turkey crowns, which typically serve three to four people, had increased by 230% year on year so far, it said.
The latest results come with the acquisition of a majority stake in Asda by the Issa brothers and TDR Capital set to complete in the first half of next year, subject to approval by the competition watchdog.
"After a rollercoaster year it's clear our customers are already planning for a very different Christmas," said Roger Burnley, Asda CEO and president.
"We have already seen a marked shift in buying patterns with customers stocking up their freezers and cupboards with festive essentials earlier than ever before, which suggests they are getting used to expecting the unexpected but preparing to enjoy themselves as much as possible. Whatever happens during the next few weeks, we are totally focused on delivering a great Christmas for our customers during these uncertain times."am