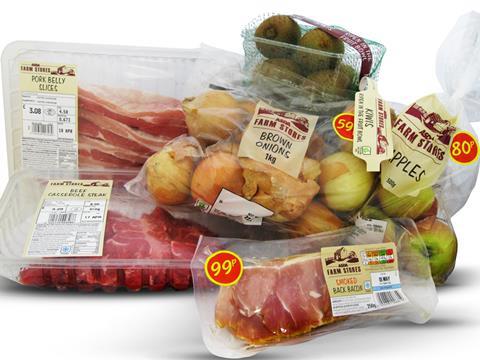 Asda has returned to its farming roots by launching a budget range of fresh meat and fruit & veg under its revived Farm Stores brand.
The retailer launched the range, currently seven fresh meat and nine fruit & veg lines, this week, replacing SKUs previously sold under its Smart Price budget range.
Products sold under Farm Stores are significantly cheaper than standard corresponding Asda lines, with Braeburn apples some 20p/kg cheaper, brown onions 16p/kg cheaper, kiwifruit 14.2p/kg cheaper, and a beef sirloin steak £1.75/kg cheaper than an Asda Butcher's Selection line.
The new Asda brand represents a nod to the retailer's past, when a group of West Riding-based dairy farmers founded a new public company in 1949 named Associated Dairies & Farm Stores.
A Farm Stores fascia was used on a number of pork butchery shops throughout the 1950s and 1960s, before the Asda brand was launched in 1965. More recently, Asda has used the Farm Stores brand as a discount line. This range was axed in 2000, when new owner Walmart launched the Smart Price range.
"We're reconnecting with our heritage by bringing back the Farm Stores brand to Asda – a name that our customers remember and trust for great value, quality produce," Asda said.
The launch of the range comes a year after Tesco rolled out its Farms brands. The retailer this week hailed the success of the range and said two-thirds of customer baskets now contained a Farms brand product.
The NFU launched an ultimately fruitless complaint to Trading Standards last year over concerns 'fake' farm brands such as the Tesco range could mislead consumers.
Its chief food chain adviser, Ruth Mason, was less alarmed by Asda's new range but warned: "Although such rebrands can drive an uplift in sales, in our view it is important that product names and descriptions are clear, accurate and do not mislead consumers."
With Asda now using the term 'Farm' within its branding, it was "imperative that the origin of these products is clear to customers", she added.
An Asda spokeswoman insisted the products were "clearly labelled with their country of origin".
Asda is not the only retailer to rebrand its budget fruit and veg recently. Sainsbury's has been trialling a brand called Greengrocer's Value since last year.
It comes as Asda continues to scale back its mid-tier Chosen by You brand. The retailer started the process of phasing out the brand a year ago, replacing them with products labelled simply as 'Asda'. At the time of writing, there were less than 200 products available on the Asda website.