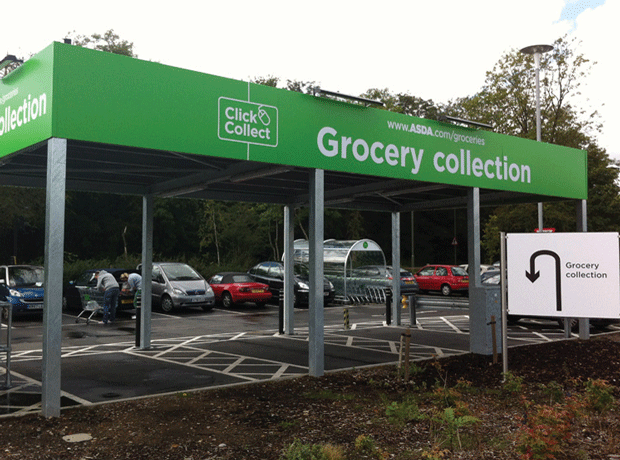 Asda has ramped up its multi-channel offering with an expansion of its Click & Collect service and a trial of new in-store computer terminals to help customers place and pay for orders.
The retailer hopes to extend Click & Collect, which currently allows customers to shop online and pick up their shopping at an Asda store at an allotted time, to business parks, universities, train stations and park-and-ride schemes.
By targeting commuter hubs Asda expects customers to order online before picking up from a parked delivery van while travelling home. It has already trialled the scheme at Green Park business park outside Reading, while the first park-and-ride collection point will begin operating in Nottingham later this year.
"It's about offering our customers the choice of shopping in the most convenient ways to fit in with their lifestyle," said Asda's operations director, multichannel, Kieran Shanahan.
"Whether that's collecting their shopping at a park-and-ride point on the way home from work or from a university collection point after a day of lectures – there is an element of customers leading the way with this service by telling us what works best for them.
"As ever, we are committed to continuously testing new concepts and learning from this to bring customers the most convenient ways to shop."
Asda is also trialling in-store computer terminals allowing shoppers to order non-food products via its website for home delivery.
"We are trialling 20 order points in our stores to allow customers to browse and order a wider range of products via the Asda website. This makes all of our products available to customers, whether they are shopping in one of our bigger or smaller stores, with the added convenience of delivery directly to their door," Shanahan said.
In April, Asda announced it would build up its multi-channel business as part of a £700m investment in "Clicks & Bricks", noting that while physical stores were "central to growth", it would be accelering its multi-channel business.
The terminals will be connected to Asda's free in-store Wi-Fi, which finished rolling out to all of its stores in February.