Asda's new c-store format is rolling out to hundreds of EG Group forecourts. But a potentially steep learning curve is ahead
It's the news Spar has been dreading since Asda was snapped up by the EG Group owners Mohsin and Zuber Issa earlier this year.
Asda is rolling out its 'Asda on the Move' trial from the initial five sites it has opened on EG Group forecourts since last October, with a target of 28 more this year, and 200 by the end of next year – with the rest of the roughly 360 forecourt c-stores expected to convert in 2023.
The growth of the EG Group has bankrolled Spar wholesalers for years, with AF Blakemore and James Hall delivering the bulk of supply, while CJ Lang in 19 Scottish sites, and Appleby Westward in 39 across the south west currently shore up the rest of supply.
What's bad news for Spar is good news for Asda, as it can at last enter the convenience fray in earnest, growing its sales and delivering better synergies and higher profits for its new owners. As Shore Capital broker Clive Black says: "It can bring a well-recognised brand with strong value credentials, good trust in private label, and considerable buying power for proprietary brands into a more potent proposition in a forecourt arena."
But Asda's convenience offer is in its infancy, and as Morrisons learned, any wholesale supply arrangement that involves a new route to market can be tricky, even if, in this case, you share the same owners.
The rollout plans
Following five trials last year four more EG sites in Knowsley, Crewe, Skelmersdale and Holtspur will open soon, with a target of 28 by the end of 2021 and 200 by the end of 2022
The range will include Asda's 'Extra Special' lines, substantial fresh and chilled, and foodservice offerings from EG partner brands such as Greggs and Subway
Asda wants to "substantially broaden the number of new and existing customers who can access the supermarket's great value products"
So what are the biggest challenges for Asda as it looks to develop a convenience offer?
Traditionally weighted towards larger supermarket formats, Asda should have three key priorities for its rollout as it develops its offer: tight space allocation, ruthless assortment control, and ensuring every SKU works within the confined space. "It's not the reinvention of the wheel, but it's not without its challenges," Black says. "Morrisons is approaching 70 Rontec forecourts with an increasingly effective offer, so it can be done. But it does require a different mindset and a different attention to detail."
Asda won't get rich just selling cans of Coke, chocolate bars and sandwiches in the space, adds independent retail analyst Nick Bubb, who believes Asda "still has something to prove".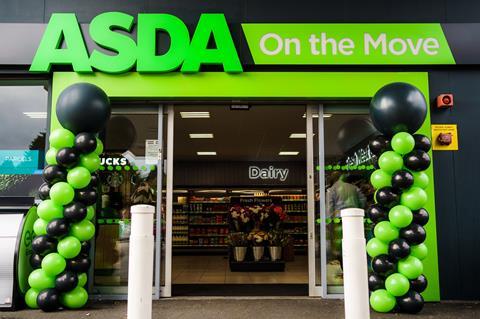 Asda has said it will stock up to 2,500 products, including a "more extensive range of fresh produce and chilled lines than is traditionally found on fuel forecourts". EG Group commercial director Ilyas Munshi says the range will also vary by location. For example, motorway locations will target commuters with more food to go ranges.
But Asda's current on-the-go and impulse ranges are smaller than its rivals, who have a presence in convenience and forecourt formats already, such as JS Local and Tesco Express, so some additional ranging will be needed, says Lumina Intelligence commercial director Ed Sibley.
Brand value clash?
Then there is the fact Asda has built its brand on low prices, while forecourts are traditionally more expensive, thanks to higher operating costs.
"There is a potential clash with Asda brand values if products are sold under the Asda banner at significantly higher prices than the main estate," says one industry expert.
The Retail Mind director Ged Futter argues nailing the range can soften the blow. "If you look at the EG Garages, they're expensive. But that's because you've got a captive audience. But if you get the range right, which is one of the things EG has done well, you can become a destination, particularly if the garages start to have electric vehicle charging points, because when you've got these, your audience is captive for a longer time period. So you need to have the products they want."
Just as important is the deliveries. Typically, logistics networks for superstores are set up for efficiency on minimum deliveries with the largest possible quantities – delivered on pallets rather than in cages – the opposite of what's needed at forecourts.
"The sortation of the drops is more complicated than it is for a superstore," adds Black. "The controls around vehicle access, anything from using ridges as supposed to articulated lorries, right down to the times which one can actually deliver. There's a lot more complexity because you're dealing with much smaller loads.
"They're either going to have to learn this on the job, or they're going have to bring in a new dedicated team to help them out."
Of course, EG Group owners Mohsin and Zuber Issa have plenty of expertise in c-store forecourts. But to get the wholesale delivery side right, Asda will also need "experts on the supply side of that market," says Futter. "Otherwise you've got people who are buying and selling who are retailers. You need to organise the business into wholesale, convenience, and retail, and have someone in charge for each.
"If you don't have experts in, then you're keeping your initial costs down but you won't be getting the best deal or properly understanding your customer. They need to be making the right choices the first time – they can't afford to make mistakes."
Adding to the challenge is that the exodus of the senior team inherited with the sale continues, with Asda last week confirming the departure of COO Anthony Hemmerdinger and strategy officer Preyash Thakrar, following the departure of CEO Roger Burnley last month. It's far from ideal as Asda embarks on its new convenience journey, Futter argues.
"There's a lot of change at the top and it's about how quickly you can stabilise it. You need a leader in periods of change, and they don't have that at the moment."