After 40 years of decline, doorstep milk delivery is undergoing a remarkable resurgence – driven by the 'Attenborough effect' and a new generation of eco-friendly shoppers
Things have certainly changed around here. Once, farmland stretched as far as the eyes could see across Britain's green and pleasant land and people lived a gentler pace of life, typified by thousands of milk floats quietly trundling about in the early hours so the nation could wake up to a fresh pint of milk. Now, huge swathes of the countryside are being swallowed up by suburbia as the tranquil past gives way to the hustle and bustle of modern life. And milk floats are as rare as supermarket delivery vans are ubiquitous.
In the early 1970s, 99% of UK households had milk delivered to their door, says Andrew Ward in his book No Milk Today – The Vanishing World of the Milkman. Yet the rise of the supermarkets curdled the trade. By the late 1980s it became "cheaper to buy milk in the supermarket than from milkmen", he writes, and "by 2001 supermarkets were selling milk at cheaper prices than the milkman could buy it for." Today, that 99% has dwindled to just 3%.
But in March something surprising happened. After 40 years of decline, the numbers started going back up. Milk & More, which controls around half of the milk delivery market in the UK and makes 80 million deliveries to 500,000 customers every year, has gained over 40,000 new customers since January. CEO Patrick Müller says in the last three months "we saw volume growth for the first time".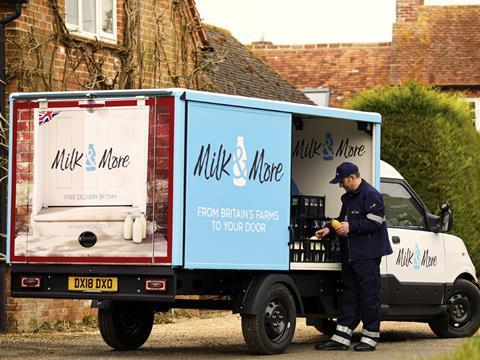 The evolution of the milk float
Until the 1950s milk was still delivered using a horse and cart.
Early prototypes of the milk float first started to appear in the 1930s.
By 1957 there were 55,000 floats idling around the UK at a top speed of 15mph.
Diesel floats were introduced as rounds became larger and needed more power.
The latest innovation is the zero emission battery-powered electric StreetScooter.They have a top speed of 53mph and its 33kW Lithium-Ion can travel up to 75 miles on a ten-hour charge.
Each float can carry 860 pints of milk plus other products in a load compartment.
They are all left-hand drive so milkmen can get in and out safely on the kerbside.
They are also very quiet – important given Milk & More's commitment to deliver before 7am.
It's been dubbed the 'Attenborough effect', after Blue Planet II revealed the damage done to the oceans by plastic to a horrified public. And Müller says 90% of those new customers are ordering milk in glass bottles. "They watched the programme and saw the devastating effect plastic has and they want to do something," he says. "Glass bottles are an easy solution and they don't end up in the sea." On average, a typical glass milk bottle is reused around 25 times.
But if Blue Planet II sparked eco-friendly shoppers to investigate whether a milkman could deliver a glass bottle of milk to their door, what they found waiting in 2018 was significantly more than that.
Milk & More customers can now order over 200 daily essentials online – from bread, eggs and cheese to breakfast cereal, yoghurt and savoury snacks. And it's not the only company hauling the traditional milk delivery model into the 21st century.
Take Mylkman, a London-based maker of artisan nut and alternative milks that delivers to doorsteps around the city. Founder Jamie Chapman says more people than ever are returning to doorstop deliveries because they want to support a local business rather than large supermarkets. "The products are typically a lot more artisan and there's also a much greater awareness regarding plastic usage," he adds.
Or Sheldons, which recently revamped its website. It charges its own fleet using solar panels and has teamed up with a "local butcher and fruit & veg wholesaler to offer quality local produce at a competitive prices with free delivery". It also delivers newspapers and magazines seven days a week.
Creamline Dairies, which was founded in 1945 and bought Dairy Crest's milk delivery business in the north west for £1.15m in 2013, also offers a lot more than milk nowadays. It sources a range of "top end produce" from a 30-mile radius in Manchester, with customers able to order online until 5pm for delivery for breakfast the next day. Having also noticed a surge in interest after Blue Planet, the business is enjoying "significant, steady organic growth", according to sales manager Steve Neary.
Nick Rowe edits the Dairy Diary, which was originally created in 1982 as a sales promotion device for milkmen. "The industry has been in decline for as long as I remember, but it is very buoyant at the moment," he says. "Milkmen are now more like a farm shop that delivers regularly. Young people want quality local produce delivered to their door and there are older consumers who have no option but to get home delivery because they can't get out and about."
Müller says Milk & More's customer demographic is "very spread out" in terms of a customer base. "They like to have someone from the local community and they like to buy into tradition. It is something people love, especially young families."
Part of the community
If the idea of milkmen appeals to a broad range of the community it's because they have "always been held in high regard," adds Rowe. "It's more than just putting a pint of milk on the doorstep. A lot of companies talk about corporate social responsibility, but milkmen actually demonstrate it."
Milkman Tony Fowler has raised over £300,000 for charity and was awarded an MBE for services to the community by the Queen. "I always have soup on board or some spare bread," he says. "Even to just have someone to talk to means a huge amount to lonely people. And as people get older they get arthritis so you're a godsend if you can open a jam jar or change a lightbulb."
Indeed, having arrived back in the future, milkmen have a more important role to play in society than ever. Elderly people are increasingly isolated and there are fewer police on patrol than 30 years ago. Trundling through the streets in the early hours, milkmen are the "eyes and ears" of the neighbourhood, says Fowler. "You realise who should be there, who shouldn't be there, who works nights and so on. It's amazing the little details you notice."
Some are even emerging as unlikely crime fighters. "A couple of weeks ago there was a burglary," says Müller. "It wasn't even a customer but the milkman drove by, saw an open door, took a look what was happening and found a very frightened mother and her three-year-old daughter in the front room. He called the police and went back three times to check the police had arrived."
Milkmen might be society's new superheros, but their old enemy, the supermarkets, are posing a tougher fight than ever. Not only do they also deliver to the door, but their infamously aggressive pricing hasn't dissipated over the years. Despite selling milk for twice as much as the mults, though, Milk & More gets "hardly any comments about the price", says Müller. "They see the value. It's more expensive to hand-deliver a glass bottle, to collect it the next day, to clean it, to sterilise it, to refill it."
The rest of the company's products are "very much in line with supermarket prices", he says, although Milk & More "doesn't want to be a little supermarket, we want to connect local communities with local producers."
And while the supermarkets might also deliver, their minimum online orders range from £25 to £40. "You can get a single pint of milk from the milkman," says Rowe. "And you can order the night before and have it delivered the next morning."
Müller also points out that when you "order with a supermarket you have a time slot, say Tuesday at 3pm, and you have to be there. This is not convenient for a lot of customers, whereas with a milkman you open the door and it's there by 7am."
Efficiency
What's more, the electric milk float is ideal for delivering across modern cities and towns. They are quieter, more efficient and less polluting than diesel trucks, and new technology means they can go further and faster than ever. Milk & More recently splashed out £6.5m on 200 new zero emission battery-powered electric StreetScooters to replace diesel vehicles on urban rounds (see box), and says it saw a 90% reduction in operational costs in the first month.
As supermarkets struggle with online profitability, there is a buzz about alternatives. Dutch startup Picnic, which delivers grocery orders placed via a smartphone app at set times on electric vans, raised a staggering €100m in funding from investors in 2017.
The company, which currently operates in 50 cities across the Netherlands as well as Düsseldorf, says it's more efficient than other supermarkets. Orders go straight to suppliers who wing products to a Picnic distribution centre. Then Picnic delivers it for free, following a set route rather than zagging around towns to deliver groceries at specific times.
It's often compared to old-fashioned milkmen. But the modern British milkman is doing very similar. And while Milk & More holds a level of stock rather than Picnic's leaner model, that allows it to take an order at 9pm and deliver it by 7am the next day.
That 7am delivery time was the first big change made by Müller when Milk & More was acquired from Dairy Crest in 2015. It then put in a new internet platform, "completely changed the range" and launched an app so it's "very easy to order things whether you're at home or on the train", says Müller.
Teething troubles with the new website aside, over 40,000 new customers since the beginning of the year suggest the changes are going down well. And the future looks good. Not least because one thing that hasn't changed is that "milkmen already have the passion. It's a tough job, they are out in all weathers, rain, cold and snow, but they love their job."
Many of them "might have taken over from their father and want to give it to their son," he adds. "Now they have a realistic chance to do that, because for the first time in decades we are in growth. People like the experience. And it brings back memories of how it was when they were young."
Back to the future: why doorstep milk delivery is undergoing a resurgence
1

Currently reading

Back to the future: why doorstep milk delivery is undergoing a resurgence

2

3

4

5

6

7

8

9

10