Allied has now lost its second bakery supply deal in two years. How can it salvage the situation? Is buying Hovis the answer to its prayers?
Allied Bakeries has kissed its Co-op contract goodbye, with owner Associated British Foods (ABF) revealing that it was exiting its long-standing supply deal for branded and own-label morning goods in its Q3 results last week, as it was unable to agree commercial terms with the retailer.
It's the second bakery supply deal ABF has lost in two years: 15 months ago Allied Bakeries lost its supply contract for Tesco's own-label loaves while sales of its bread brands, which include Kingsmill, Burgen and Allinson's, have also fallen, partly as a result of that deal.
So what now for ABF's bread business? Is this a catastrophe or an opportunity? And could an acquisition of rival bread brand Hovis solve some of its problems?
First things first: Allied has a bit of time to come up with a plan, given it will continue to supply Co-op until it transitions to new supply arrangements in April 2021. For now, it says it is "taking a number of steps to reduce costs and improve efficiencies" in the business.
And while ditching the deal will mean the loss of significant volumes, it will free the supplier from the "logistical headache" of the contract, according one industry source. Even ABF admitted that the Co-op was one of its "more challenging" accounts in terms of cost to serve, due to the need for daily deliveries to the Co-op's 4,000-plus stores.
The Co-op deal may have upped Kingsmill's rate of sale and brand familiarity, but "If they can react quickly, it won't be as catastrophic as losing a Sainsbury's, Tesco or M&S deal because you can make good money out of those", says the source, who adds it may even be an opportunity for Allied to win more shelf space in the mults, going after buyers who would have previously kept them at arm's length.
Indeed, in the wake of two big contract exits, Allied now has the capacity to produce more and is paying staff to do so. That, said the source, could see it become far more competitive in its approach to new business.
"The management team will have to go out and fill the volume, because without that they'll have to shut things and make people redundant. So that makes them dangerous because they can now go out and price to win volumes."
Top 10 bread and baked goods brands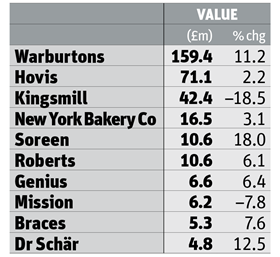 Kingsmill's crown
Still, when ABF does act, it will need to act boldly, because sales of its hero brand Kingsmill were floundering at a time when panic buying of bread sent rivals' sales through the roof. Over the 12 weeks to 21 March, Warburtons and Hovis saw volume increases of 11.2% and 2.2% respectively, while Allied Bakeries-owned Kingsmill was down 18.5% [Nielsen].
Kingsmill has subsequently benefitted from high demand for bread during lockdown, with sales up 26.4% quarter on quarter in the 12 weeks to 13 June 2020, versus 16.1% growth for Hovis and 8% growth for Warburtons [Nielsen].
However, the brand, says Nielsen senior client analytics executive Viviane Palmedo, has "struggled with delistings and has missed the innovation trends in other bakery". Namely, it has failed to jump on the health bandwagon.
"Hovis and Kingsmill are just knocking lumps out of each other"
The problem, adds our industry source, is that mass-market bread is "a low-cost producer game. These bakers have to get to a low-cost base in order to compete, because it's hard to drive value back into that sliced bread market.
"You can do it through innovative products, a bit of branding, morning goods and free-from. But Hovis and Kingsmill are just knocking lumps out of each other, while Warburtons has risen slightly above it."
Hovis
The most obvious antidote to this would be to acquire Hovis, which has now been put up for sale as conditions are considered optimal due to the stabilisation of sales and a further boost from Covid-19.
"Nish [Kankiwala, Hovis chairman] has definitely done the right thing to get Hovis to focus on what it's good at, which is its branded business, but it hasn't got the scale," says our source. "And he is competing against Kingsmill in the market." If the two could combine they might stand a chance of competing against Warburtons.
Trouble is, the Competition & Markets Authority is expected to object, and in any case ABF has shown little appetite in the past, so Hovis owner Gores may be hoping for private equity interest, with food now seen as a relative safe haven for investors. But a senior bakery source says while Hovis "have done a super job, and might be attractive to another private equity business sitting on an awful lot of cash, it's an expensive game, and not blessed with a lot of margin."
Still Hovis is "an interesting candidate for M&A", agrees a City source, as it is "an improved business, with a very strong brand, and further opportunities for growth".
"If Allied were to buy Hovis, it would be steering towards the iceberg, not away from it"
"There are share and distribution recovery gains" to be made with the right investment, "due to its uniquely narrow product offer," the City source adds. "It's not tapped into growth markets within bakery. They're now doing some interesting things around in-store bakery models, and there may be opportunities in using the Hovis brand in growth sub-categories."
In contrast, "apart from 50/50, Kingsmill just hasn't got any traction as a brand, and none of its innovation has stuck."
Modern Baker founder Leo Campbell disagrees that buying Hovis would be the answer to its prayers. Big bread brands "are petrol in a world of electrification. The industry is crying out for a Tesla", he says. "If Allied were to buy Hovis, it would be steering towards the iceberg, not away from it."
The coronavirus pandemic has amplified "structural weaknesses" in the baking industry, and the need for healthier innovation, he adds. "The problem is every ounce of nutrition has been hollowed out in this industry for the sake of profit and none of those companies know how to reverse that.
"There's growing pressure coming from all sorts of directions – enough consumers for it to matter now, certainly government regulators and even public health bodies ganging up to say enough is enough."
Healthy innovation
The plant bread market's decline due to these dietary forces also undermines the case for a Hovis acquisition by private equity, adds the first bakery source.
"It makes it more difficult for an incoming buyer on the basis that in a market that's in long-term decline – for dietary reasons as much as anything else – these strong businesses aren't going to go anywhere quickly, which makes it challenging for any acquirer to gain market share," he explains.
Campbell reinforces the need for innovation if the bread market is to move forward.
"These 50-year-old oligopolies – big bread is one of them – they always come to an end and they can never innovate," says Campbell.
He adds: "When the end is nigh, they always fall into the trap, because they need to cannibalise some of their probably existing brands and products in order to reinvent themselves, but they just can't bring themselves to do it, so they don't and they collapse."