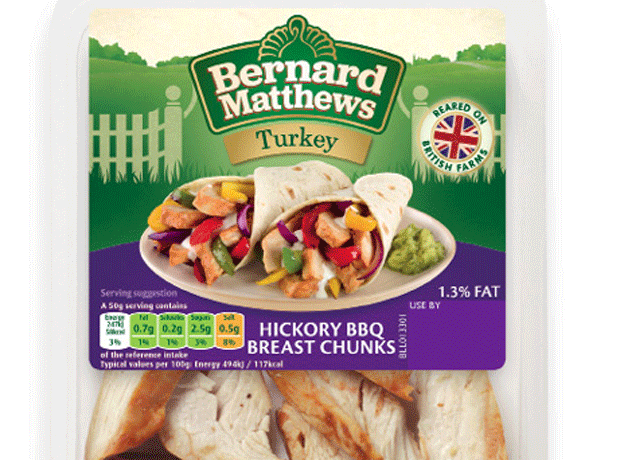 Turkey giant Bernard Matthews is revamping its brand, overhauling its packaging and launching a £1m consumer campaign to encourage more consumers to use turkey in recipes.

The brand - which has been known officially as Bernard Matthews Farms since 2008 - is dropping the 'Farms' and will convey its farming credentials through new farmgate imagery on packs instead.

It is also introducing food photography to its cooked meats packs for the first time, and will highlight its British provenance with a new 'reared on British farms' flash and a Union flag, having previously described its products simply as 'made with British turkey'.

Commercial director Deborah Ewan said consumers knew the brand as 'Bernard Matthews' anyway so it made sense to revert to the original name. "It also helps us to position ourselves more as a food brand instead of focusing too much on the farming side," she added.

The new pack imagery - a green, hilly rural landscape and a farmgate - would continue to highlight Bernard Matthews' farming credentials, which remained "intrinsic" to the brand, she said. The new packs will go into the major mults from 8 August to coincide with 'back-to-school' events.

Bernard Matthews will launch two new cooked meat SKUs at the same time - Wafer Thin Turkey Curry Chunks and Hickory Smoked Turkey Breast Slices (both rsp: £2). It is supporting the launches and wider brand revamp with a £1m above-the-line push, including press ads in women's magazines from October. It also plans to revamp its website later this year.

Marketing controller Charlie Douglas said the campaign would primarily target "mums and housewives juggling busy lives and looking for healthy meal and lunchbox ideas".