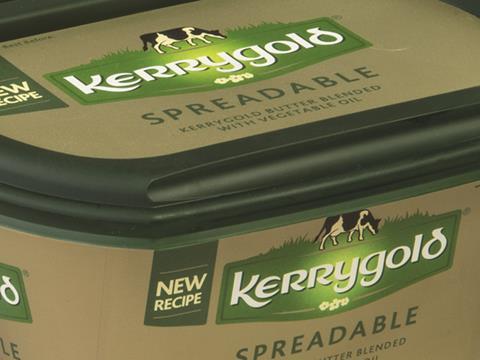 Higgidy, Kerrygold and Danepak are among the big brands to have lost shelf space in Tesco amid a shake-up of the retailer's chilled aisles as it confirmed the next phase of Project Reset.

The supermarket giant delisted Kerrygold's Spreadable butter at the end of last month following an overhaul of its BSM aisle, which saw rival Müller gain space for its new branded Spreadable range and block butter.

Kerrygold brand owner Ornua, which launched Spreadable in the autumn of 2016, said the move was "disappointing".

Its block butter has also disappeared from the Tesco website since last week. However, the brand stressed it had retained its Tesco listing nationwide.

"As a result of what we understand is a wider range rationalisation of its butters and spreads fixture, Tesco has decided not to stock Kerrygold Spreadable," said an Ornua spokesman. "Kerrygold continues to be one of the most popular premium butters in the UK, with consumers loving its unique pure taste, creamy texture and golden yellow colour."

Meanwhile, Higgidy lost all nine of its Tesco listings in mid-May amid a rationalisation of the retailer's savoury pies, pastries and quiches offer, which also saw it ditch some own-label SKUs and introduce new lines including a Crustless Spinach Edamame Kale Quiche 160g (rsp: £1.30) and Premium Chutney Topped Pork and Chorizo Pies 150g (rsp: £3.10).

"We're unable to comment on Tesco strategy, but can confirm that unfortunately Higgidy products will not be available in Tesco stores for the near future," said a Higgidy spokeswoman.

Danish Bacon brand Danepak has also gone from Tesco shelves after both its SKUs were de-listed, although a spokesman for brand owner Tulip suggested this was a "coincidence" and not connected to Project Reset.

The pork processor this week cut 150 jobs at its Bodmin plant, citing a "significant fall in production".

Other major chilled food brands have seen their Tesco listings trimmed over recent months, while the supermarket giant has at the same time overhauled its own-label offer across categories including ready meals, cooked meats, fresh pasta and prepared meat and fish.

As The Grocer reported last week, Tesco is planning to slash the number of suppliers it works with as part of its Project Reset strategy and will conduct a sweeping review of its supplier base over the next two years.

It is understood it will look at all elements of its "supplier partner capability", with one supplier telling The Grocer manufacturers were facing a "tsunami" of change as Tesco looked to rely more on selected, long-term partners. Tesco had not commented on the latest de­listings as The Grocer went to press.