It's the biggest thing to happen to Costa since it first brewed a bean, but when asked his thoughts on Costa's split from Whitbread, MD Jason Cotta is as cool as an iced latte.

"They're somewhat irrelevant," he says. "It's a Whitbread decision that's been talked about forever. From a Costa perspective it enables the respective ­management teams to focus on the running of their individual businesses, which I am sure will be great. As for the rest of it, we will have to see how it pans out. Two years is a long way away."

Still, there is a lot to do. In April, Whitbread CEO Alison Brittain said two years was required for Costa to "complete critical and complex transformation and infrastructure objectives" before it could "take advantage of growth opportunities" in the future.

"And she would be right. But I would also say there is no downside to this. We have reached a point where the right decision is to split apart. Things are fine and I'm deeply optimistic about the next 10 years. We have an incredible business in the UK, which has more ­innovation to come, and the right level of investment in infrastructure."

The demerger was driven by pressure from activist investors who believe the separation will make both businesses more valuable. Results released in April show that although UK sales were up a perky 7.3%, pre-tax profits were down by 5.5%.

So will the demerger deliver improved capital for future plans? "That's too specific to say at this point," says Cotta. "But I am optimistic Costa will continue to be a great UK success story after the demerger, just as we are now."

A parting of ways, followed by two years of uncertainty with no one able to clarify how things will turn out. Sound familiar? And if Costa has its own separation going on, it's also entrenched in Brexit.
"We've reached a point where the right decision is to split apart. I'm deeply optimistic about the next 10 years"
Following the referendum, headlines worried departing EU workers would leave coffee shops barren of baristas. But so far Costa has seen "no impact", despite "around one fifth" of staff ­hailing from the EU.

"A lot of people have been with us for years, carving out lives and careers, and we have seen no impact or exodus. And in terms of recruitment we haven't seen a problem with a lack of people, yet. We value and reward people, and that's where we have focused our attention. There is a limited amount of planning you can do until we know what is going to happen, and no one really knows yet."

If the future is uncertain the present is focused. Costa is the undisputed market leader with 2,422 stores, ­double the size of rivals Starbucks and Caffè Nero ­combined. Newer rivals in coffee like McDonald's and Greggs have encroached on coffee though.

"I always have deep admiration for my rivals," he laughs. "You'd be mad not to! We recognise they have upped their game."

Is he worried about them? "In any market a whole spectrum of offers emerge. We are at the premium end, based on the price we sell at and the love we put into the product, like the flat whites we launched five years ago. We now have a family of flat white varieties and they are our fastest-growing drinks. They are a celebration of the quality of bean and the technical skill of making the milk just perfect."

And there is the "size of our network, and our people. We are warm and friendly and we don't take ourselves too seriously. And the quality of our environment is a difference between us and any competitor."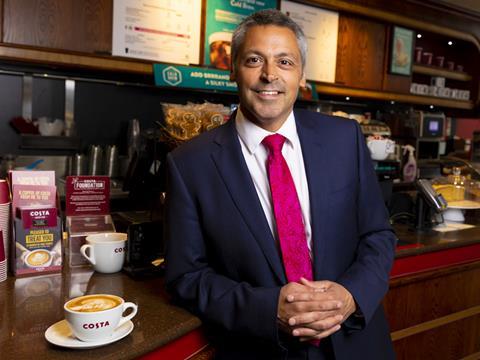 snapshot
Name: Jason Cotta
Age: 47
Status: Married to Roy
Best career advice you've received? Whatever it is you're doing, however dull and boring it might seem at the time, be the best you can. And stay in touch with people you've worked with in the past.
Worst career advice received: "Be more prepared to stab the next guy in the back to get ahead." I said I would never be that person.
What advice would you give to any aspiring MD? It's easy to forget where the money is actually made. For us it's made through thousands of motivated and engaged baristas doing a technically skilled job on the front line every single day and we rely on them 100%. Making sure you stay attached to that is fundamentally important. Don't lose touch with what makes money.
Last good film: Avengers: Infinity War.
Favourite coffee: Flat white.
Which overseas country offers the best opportunities for Costa? China, without a doubt. We have over 400 stores there now, a superb leadership team, and just look at the number of people. The opportunity is huge.
Moving in on lunch
Besides, as new rivals move in on coffee, Costa is ­moving in on lunch. Never a strength for Costa, a ­"massive structural change" has taken place to deliver a wider range of food. Cotta says food sales are in ­"significant growth" as a result.
"Needing to be better at food has been a fundamental part of the last 18 months," he says. "Food has always been important to us, we just sold it in narrow ranges, primarily paninis and toasties. We still sell hundreds of thousands of them but people want more choice now."

The trouble was "we only had panini grills which ­limited our ability to innovate, so the biggest decision we made was to put in Merrychef ovens and microwaves to add hot meal boxes, soups and savoury ­pastries. The choice to invest in the kit ­facilitated the innovation."

The result is Costa has "pretty much ticked every category", including a vegan soup, a vegan wrap and vegan cake. "From a very small base it's a very important customer segment that continues to grow."

Like Starbucks, Costa even considered offering alcohol, but "you have to think about how credible you are in that space and what the consumer is choosing you for. From the morning to the late afternoon is where we play best; beyond that it gets tricky."

So breakfast has also been a "real focus. We launched a breakfast deal where there was always breakfast for a pound, we rotated around toast, pastries and porridge. Morning offers are very important to consumers, so increasing the range, making them more high profile and that value proposition gave us some really solid growth."
It's not just the food that's growing and evolving. Last year Costa opened 243 new stores and plans to continue that pace for the next five years. But further diversification into alternative channels to the classic high street format is expected.

"The high street is a fantastic ­segment for us, we have a great business and make great returns for shareholders," says Cotta. "We have a fair few small Costa Pronto stores, which are about high speed, more machines and more tills. But we might shift away from opening as many shops on the high street into the growth segments, which are travel and drive thru."
Growth segments
That means more stores in train and Tube stations, and adding to its 86 drive thrus. About 30% of transactions go through a drive thru window and it's growing, as much as 50% in some. They are more expensive to build but they return at a great level."

Then there are 7,248 Costa Express machines in forecourts and c-stores, which are "world class bits of machinery that use the same beans we use in stores, made and ground to order, and fresh milk. They operate on a revenue share model and have proved to be really scalable at pace. We keep checking if there is a risk we are losing transactions from local stores but actually sales are for different occasions, to different customers, and they don't cross over that much."

The machines might not, but with so much emerging competition on the high street is there any danger of oversaturation? Cotta doesn't think so.
"We might shift away from opening as many shops on the high street into the growth segments - travel and drive thru"
"The market is growing by 6%-8% a year, the UK is drinking more coffee and we've been clever in putting stores and machines where ­people want them. The market is still growing faster than the total operators are putting down stores so I can't see a problem yet."

Still, more operators means more cups. The UK already bins 500 a minute and coffee shops have come under pressure as less than 1% are recycled. In April, Costa pledged to recycle 500 million cups by 2020. The commitment represents a "step change of how we face into recycling," says Cotta. "Although our cup is ­recyclable anyway and always has been."

Sort of. They are tricky to recycle thanks to a polyethylene coated inner, which makes them coffee-proof and unable to be recycled in standard facilities."They are, but there are places that will, and always have, recycled them. So the work we are doing, setting a new floor price of £70 for a tonne of cups, makes it much more attractive for processors to pull them out and send them to the right place. It's a massive step forward. Half a billion cups effectively means we will recycle as much back out of the market as we put in, so that's got to be a good thing. And we will continue to work with the ­government to improve the infrastructure."

As for the prospect of a 25p 'latte levy' on disposable coffee cups, Cotta says the work Costa is doing "negates the need. "Coffee cups make up 0.07% of landfill waste, so if you're going to make a change then tackle all single-use packaging. The latte levy singles out coffee shop operators, so we are definitely against it. We offered 25p off to anyone using a reusable cup, but penetration was low. People just weren't that keen on carrying them, but we are very happy for customers to use them. We want to be part of the solution or we wouldn't have put the money behind it that we have."

It's not the only prescient investment Costa has made recently. And however the next two years pan out, it's unlikely to be the last either. The immediate future might be uncertain but, like any good coffee, it's also ­looking strong.