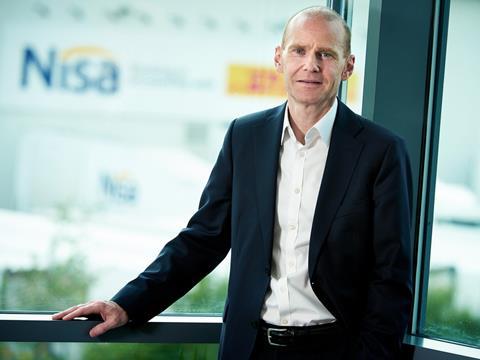 I'm a fast learner," says new Nisa CEO Ken Towle when I meet him 10 weeks after stepping into the role.

He'll have to be. On Towle's first day the Co-op finally got its hands on the buying group in a £137.5m deal. At the time the former Tesco digital boss admitted that while an expert in retail, his knowledge of the wholesale sector was limited. It was a brave admission, particularly as his predecessor Nick Read, another former Tesco alumni, had proved a divisive figure among some of the Nisa membership. Read's lack of wholesale experience often became a stick with which his critics tried to beat him.

Towle is aware of but undaunted by the challenges ahead in terms of integrating Nisa into the new Co-op ownership structure and keeping the Nisa members - or 'partners' as they are now referred to - sweet.

It is Nisa members' customers rather than the members themselves he feels the focus needs to be on.

"What I've learnt very quickly is that there are customers at the end of all this," he explains. "So the really interesting thing to think about is what those customers are doing out in our partners' stores."
snapshot
Name: Ken Towle
Age: 54
Family: Wonderful wife Ann and children Daniel, Katy and Benjamin.
Potted CV: Joined Tesco, worked hard, lots of good fortune and help, brilliant experience. Joined Co-op to run Nisa, having a great time.
Career peak? Still peaking.
Steepest learning curve? Leading Tesco China changed me for the better.
What's your business ethos? It's all about two groups of people: customers and colleagues.
Do you have a business idol? Too many to mention. I have learnt from everyone I have worked with.
What's the best advice you've received? Spend your time doing what you do best on things that make you happy with people you enjoy being with.
Hobbies? Driving, books, movies, theatre, travel, eating out, running.
Death row meal? It's too soon to think about that.

Since joining, Towle has balanced office duties - mainly at Nisa HQ in Scunthorpe and occasionally the Co-op's HQ in Manchester - with visiting stores. So far he says he's been to about 50 Nisa stores and as many nearby competitors.

"It's been a good reminder for me that there is something different about a store run by a manager and one that's run by an owner. In terms of the owned store it is the way they take the long-term view about looking after and cultivating customers. If you could bottle it, you could make money selling it."

All the same, a few grumbles are already beginning to surface among Nisa members, who despite being just a couple of months into the Co-op tenure, are starting to suggest the multiple has not lived up to its promises around simplifying the business and the profitability of the convenience giant's own-label range.

One member who was very supportive of the Co-op's takeover of Nisa suggests the Co-op "has built considerable complexity into their dealings with us". The retailer explains the Co-op is monitoring their purchases from April in order for them to achieve the share payments that were agreed as part of the takeover. Purchases are also being monitored from July in relation to what is known as a 'deferred consideration', which impacts a maximum rebate of 1%, and purchases of 100 core lines are being monitored monthly whereby retailers can then get a rebate of up to 10% on these lines. "On top of all this we have to work towards the already onerous terms and conditions in the existing Nisa 'New Era' scheme," the retailer adds.

Towle admits there could be some added complexity, but argues much of this has been done to help partners. "When they sold their shares, those payments are meant to be coming over four years based on sales levels that were consistent with what they were running before. They can earn an additional rebate for the four-year period as well, and there are some qualifying criteria. But both of those are good news and were part of the deal - so they all went into that with their eyes open," he says. "What we've done now with the introduction of the Co-op products is added in some very generous allowances to enable them to support the launch of the products."

The reason for incentivising 100 core Co-op lines, he explains, is to avoid scenarios in which a retailer takes only a handful of lines - which may then look odd in store and confuse customers.

"On the one hand you might say these rebates have added an extra layer of complexity, but on the other they are intended to be helpful. We can look at the trading relationships - could they be simpler? Probably yes, but the important thing right now is that we get trading momentum in the business."

Getting the Co-op products launched in the Nisa supply chain will be at least six months' work, Towle says, and points to the newly convened Nisa Monitoring Group, the body that in effect takes over from the Nisa member board as the forum for bringing up these and other concerns. The 10-person group is comprised of four people appointed by the Co-op and six Nisa retailers voted for by members and representing the key regions of the UK.

This will prove invaluable, he says, for discussing the big issues on a quarterly basis. He says it may result in Nisa having to "adjust its plans accordingly or we might have to help them understand a different perspective".

Another board Towle will sit on is the Co-op's wholesale and franchise advisory board, to look at the group's wider wholesale plans. This will likely discuss the retailer's ambitious plan to buy Costcutter. It emerged that the Co-op has had a £15m bid for the symbol group, which it currently supplies through Nisa, turned down by Costcutter owner Bibby Line Group. Industry sources expect Co-op to come back with another bid, but Towle declined the opportunity to discuss it.

The advisory board has yet to meet, but Towle will be joined on it by Co-op Group CEO Steve Murrells, food CEO Jo Whitfield and, perhaps most intriguingly, Costcutter founder Colin Graves. Towle is in regular contact with Graves. "Friendly, knowledgeable advice can never be overrated," he says, agreeing wholeheartedly with Murrells' description of Graves as a "legend".

In terms of franchising, one of the carrots dangled to Nisa members ahead of the vote to accept the Co-op bid was the prospect of a Co-op franchise being made available.

There is strong interest from Nisa retailers but as yet no firm plans as to when independent retailers will be able to display the Co-op badge over their door.

The Co-op is currently running one franchise in a Costcutter-owned store in Guiseley, near Leeds, with a few more in Costcutter-owned stores to follow later this year. So far the store's sales are up 67% according to Costcutter, well ahead of an initial target of 40%.

"We are learning a lot about what it takes to run a franchise store, but early signs are positive," he says.

"It is quite a thing to take a brand you have held really close and let someone else run it for you. It's a big transformation. A lot of our partners are very interested in the opportunities for them to take on a franchise and we are very interested in their ability to do it."

For now, though, the focus remains on the own-brand rollout. "Like all businesses we have more things to do than we can cope with at any one time, so we are going to have to make really careful choices about when to tackle things," he explains.

Whether this will be fast enough to keep all his new partners happy will soon be seen.