The merger of processors Medina and Freshways was complicated by Covid, but the newly formed supplier is now ready to become a major player
It took tough circumstances for Medina and Freshways to go from rivals to allies. Back in 2018, the liquid milk sector was facing a crisis just as severe as the one today.
Its six biggest processors had shed a combined £144m in losses, as rising costs, commodity price volatility and low retail prices hit returns.
By the time mid-market processor Tomlinsons collapsed into administration in October 2019, the sector was "on its knees", says Bali Nijjar. He's the former Freshways MD who now heads the newly merged Medina Freshways, alongside one-time Medina Dairy CEO Sheazad Hussain.
As the two companies faced their own economic travails, they began to consider a merger. "What we learnt was there needed to be consolidation, cost-cutting, and the creation of a business that was stable," Nijjar says. "Otherwise, we were going to end up with one of us, or both of us, as a casualty."
So in late 2019, the companies confirmed rumours of a merger. The deal was completed in July 2021 and cleared by the CMA at the end of March this year. In that space, it's had to deal with the pandemic and the start of the cost of living crisis.
"We want to grow the business in areas that play to our strengths and infrastructure"

Sheazad Hussain
So, how close did covid get to derailing the deal? How did the two family-owned processors put aside a rivalry of more than 30 years? And what's next for the newly formed company as inflation rises?
Despite all the doom and gloom circling the dairy industry of late, Hussain and Nijjar are upbeat. Their shared mood is in stark contrast to how they felt as the pandemic took hold in 2020.
With a merger in mind, Freshways and Medina were already collaborating on projects in autumn 2019. By the following January, Freshways milk was carrying Medina's Watsons Dairy branding, and the two suppliers had started integrating their distribution networks.
But further work towards a merger hit the buffers when the hospitality sector – in which both companies had significant presence – was ordered by the government to close on 20 March 2020.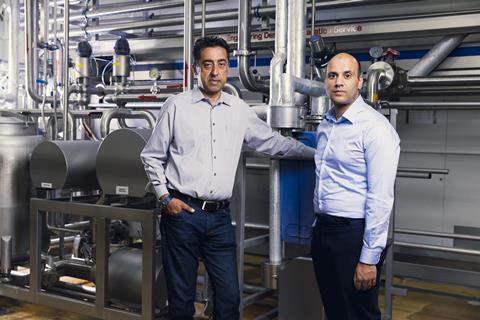 The result was an immediate end to around 50% of Freshways' business and an equally damaging slump for Medina. That left the two suppliers with some "very hard decisions" to make, says Hussain.
First came the immediate slashing of farmgate milk prices – by 2p per litre – and a delay of payments to farmers. Such moves attracted bad press, Nijjar concedes, who within days was the subject of a Daily Mail hit-piece that contrasted his fondness for exotic holidays, gold watches and fast cars with dairy farmers' strained circumstances.
Nijjar was "painted as the bad guy" but was merely "trying keep his business alive", argues Hussain. And given what became an existential threat to both businesses, the two men stand by the actions they took to stem mounting losses.
They had been left with "all this milk and no customers", Hussain recalls, with buyers saying "they don't want the milk now".
"You're paying a farmgate price of between 25p per litre and 27p, but the spot market is down to less than 10p. So, if you don't start making the hard decisions, you're not going to survive," he stresses.
To make matters worse for Nijjar, his brother Ravi – who played a key part in the day-to-day running of Freshways as operations director – was taken seriously ill with Covid in mid-April 2020. Luckily, he made a quick recovery and was able to continue work to integrate elements of the two businesses.
Name: Bali Nijjar
Job title: Joint MD, Medina Freshways
Age: 52
Family: Lives near Beaconsfield with his partner of three years. Has two children in their 20s.
Hobbies/out of work interests: Fast cars, travelling, theatre and concerts.
Business mantra: Work hard, stay focused.
Resistant buyers
As the year progressed, the two companies' farmgate milk prices slowly increased. But getting milk price increases through to retailers and other buyers wasn't easy, say both bosses.
"Most people acknowledged the inflationary costs, but the issue in certain areas is that milk is still used as a loss leader," Hussain says. Plus, Nijjar adds, supermarket pricing had been "extremely low", meaning some buyers were hugely resistant to increases.
Despite these challenges, by the summer of 2020 the pair could again look at continuing a merger questioned by many dairy experts due to their different backgrounds and long-standing rivalry.
Though as Nijjar stresses, while the two companies "grew side by side and competed for many years", they also had much in common.
Both businesses in their current forms became incorporated in the early 1990s, after Nijjar and Hussain's fathers – both immigrants – had been involved in dairy for many years.
Arriving in the UK from Pakistan in 1977 aged 16, Hussain's father, Sardar, started work on a chicken farm as a slaughterer. After other jobs including selling fruit & veg and his own milk round, he took to supplying independent c-stores with milk and bread.
"The business grew from there," says Hussain, who worked on his father's milk round as a teenager. He took over the running of the business in 2009, after his father died at the age of just 49.
"I've been involved in milk since I was four or five years old when we used to do doorstep rounds"

Bali Nijjar
Nijjar's father Rajinder, meanwhile, arrived in the UK in 1967 at the age of 17 from India. He started working for County Dairies around 1973 in a variety of roles, before five years later becoming the "UK's first Asian dairy farmer", Nijjar claims.
"I was brought up on a dairy farm from then until 1985," he says. "Dad processed milk on that farm. So, that's where the processing background comes from. I've been involved in milk since I was four or five years old when we used to do doorstep rounds, knocking on doors and picking up money. There's nothing I've not done in dairy over the years."
After selling his business to Leicestershire supplier Kirby & West Dairy in 1985, Rajinder left the sector for five years. He started Freshways in 1990 – and Nijjar took over the running in 2012.
The two fathers were fierce rivals and "fiery characters" he recalls. Hussain remembers them as "very hard-working and ambitious. But there was also a lot of love and respect" between the pair.
That sentiment was demonstrated when one business would lend a hand to the other in the event of equipment breakdowns or such like. "The culture of the two businesses was very alike," Hussain insists.
It was in that spirit of camaraderie that talk of a merger came up a few years ago – after a similar plan had arisen and been abandoned "many, many years ago" according to Nijjar.
In 2019, with margins shrinking, he and Hussain agreed their businesses "did not really have a bright future" as separate entities. So, the options were one business buying out the other, or a merger.
The final legalities of the deal now completed, the newly formed Medina Freshways will "from the outset" be a "major supplier of fresh milk, dairy and short-life ambient products to customers at a national, regional and local level", says Hussain.
With a combined turnover of about £400m and a workforce of 1,000, the company is now the sixth largest dairy business in the UK and third largest supplier of fresh milk, he adds. The company's five-year vision is to be "a stronger, leaner and profitable business".
Name: Sheazad Hussain
Job title: Joint MD, Medina Freshways
Age: 43
Family: Lives in Windsor with his wife. They have four children aged between one and 21.
Hobbies/out of work interests: Spending time with family, walks and going to the gym. "I'm also passionate about continuing the charitable work of my late father, who founded a number of schools and orphanages in Kashmir and across Pakistan."
Business mantra: Always be willing to learn from others, and treat people how you would like to be treated.
And, despite previous woes pushing through higher prices, Medina Freshways has quickly adapted to today's rising costs. It offers a market-leading farmgate milk price for September 2022 of 50p per litre.
However, a major own label milk supply contract is unlikely to play a part given Medina's difficult stint with Sainsbury's, Hussain stresses.
Medina became a regional Sainsbury's milk supplier in 2017 alongside Tomlinsons. But the supplier's infrastructure "was not set up" for such a large customer, Hussain admits, and the business lost the contract in 2020.
Now, Medina Freshways intends to focus on servicing over 15,000 customers, large and small, in the middle ground. It will target Wholesalers, foodservice firms, symbol groups and independent retailers.
"We want to grow the business in areas that play to our strengths and infrastructure," Hussain adds. "This will mean developing further our presence in the middle ground and leveraging our national chilled and ambient storage and distribution network."
The aim, he adds, is for Medina Freshways to service "any customers that will require and value our local/regional network, our strong service ethos, and our proven capability to deliver a range of high-quality fresh chilled dairy and short-life ambient products on a daily/just in time basis".
The business "will benefit customers, consumers and suppliers and ultimately, we believe, will be well placed to grow for the long term" he adds.
Medina Freshways' core brand will continue to be Freshways. The Watsons brand, owned by Medina, is to take a back seat for the short term. However, the Watsons facility near Fareham, Hampshire – mothballed in late 2020 – has a bright future ahead.
It's benefited from a £5m investment and will be one of three main processing sites operated by Medina Freshways, alongside plants in west London and West Yorkshire.
Watsons will reopen this autumn when Medina Freshways starts production of its new Love Milk brand, in carbon-neutral cartons – kickstarting the company's move towards a more sustainable ethos.
To this end, the supplier also announced a move to recyclable clear milk bottle caps in August, meaning more than 300 tonnes of food-grade plastic will now be available for reuse every year. Plus, it's planning to add electric vehicles to its distribution fleet.
Nijjar admits plans to becoming carbon neutral haven't been on "the top of our radar", but insists "we are certainly now on that path, not only to have a sustainable business, but to also look at the overall sustainability of the business from an environmental point of view". As he sums up: it's all part of running a modern dairy business.