The duo are turning wonky fruit into sparkling seltzers, carving out a major niche in a category loaded with multinational rivals
Five years ago, Jack Scott and Alex Wright were spending their weekends accosting pedestrians in London's Battersea Park, plying them with fruit-infused water from a SodaStream to work out if Brits could ever take to a sugar-free seltzer brand.
The duo, who met when working in sales for Cawston Press, were convinced their plan would work. "We had seen in the US [seltzers] had become a substantial trend," says Scott. "We wanted to be ahead of the pack."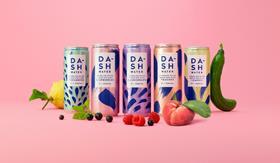 Fast-forward five years and their conviction has paid off. Dash Water is now one of the UK's bestselling seltzer brands with a 35% market share of the category across all channels, says Wright. It's landed listings in Sainsbury's, Waitrose, Asda, Amazon, Boots and BP, as well as out of home distribution in Leon, Paul and British Airways, among others. And last year it launched in Australia across 1,500 stores.
As a result, the brand nearly touched £10m in retail sales last year, says Wright, and plans to hit £20m in 2022. And it's now catching the eyes of high-profile investors. In January, industry veteran David Milner joined as chairman during a £2.1m funding found, joining the founders of Sipsmith Gin and Beavertown Brewery, among others.
So how has Dash done it? And what's next for the seltzer startup?
When they started out, Scott and Wright initially planned to go hard on Dash's sugar-free credentials but quickly realised shoppers were much more interested in the use of wonky fruit that is rejected by supermarkets. "Once we started doing multiple samplings we would see the same people come by and say 'oh, you're the guys that use wonky fruit' as opposed to no sugar or sweeteners. There was no product [of its kind] without sugar or sweetener but it was the food waste issue that people remembered and loved."
Alex Wright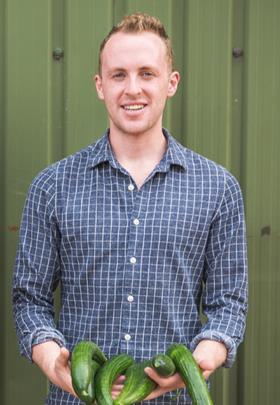 Age: 30
Married? To Rosie, no kids or pets
Worst business advice I've ever received: "Put all your full focus on the bottom line." I wholeheartedly disagree, one should factor in wider decisions to do business the right way for people and the environment
The last great album I listened to: Notes to Self – Lu Wright
The last great book I read: A Life on Our Planet – David Attenborough
My death row meal: Fajitas, with the ingredients sourced via Oddbox
If I could have dinner with one person, living or dead: Arsene Wenger
The decision to use wonky fruit came from Scott and Wright's farming backgrounds. "I remember doing potato grading," says Scott. "We had a contract with McCain and they only wanted a particular size and shape of potato, so a lot of the smaller ones which had slight blemishes were going off into another conveyor for landfill or animal feed. It was a tremendous waste."
They're certainly not the only brand doing this – the likes of Rubies in The Rubble, Oddbox and ChicP, for instance, have been built on surplus produce. But Dash has been particularly effective at marketing it. "We knew we needed to create a world-class brand because it is a hard category to break into with the large multinationals playing in it."
That Dash has managed to find a footing at all is impressive when you consider its rivals in the category include huge names like San Pellegrino and Evian, the latter debuting in seltzer early this year.
"Back when the likes of [AG Barr-owned seltzer] Le Joli, Aqua Libra, San Pellegrino Essenza were coming into the category, we did think 'oh shit, it's going to be quite tricky to stay ahead of the pack'," says Wright.
Still, he maintains they want seltzers to be a £100m category, "so we were always very keen on other brands and multinationals coming in and spending their marketing pounds".
Wright and Scott also decided to take a different approach to retail listings, largely ignoring the major multiples to begin with. "Too many brands list in supermarkets that they're not suitable for too early," says Wright. "We saw the retailers as an established channel that is hard to crack into. The big multinationals are going to spend the big bucks and we can't compete. But we can deliver a brand with a very clear mission. So we set out to bypass them."
Dash began by focusing on online sales with Amazon and listings with upmarket, specialist retailers like Selfridges and Daylesford. "We spent the first year getting it stocked in the coolest places around town that were able to re-tell our story in terms of sustainability, quality, and provenance," says Wright.
The "game-changer" was pizza chain Zizzi. "We launched in March 2017 and thought 200,000 cans would last until March 2018. But Zizzi said they loved the story and the wonky fruit and wanted samples.
"We didn't think too much of the email and sent our highest pricing because we didn't think they would take us. But we ended up launching nationally into 170 restaurants." Five months ahead of schedule, Dash ran out of stock.
Direct to consumer
Dash also invested heavily in DTC from the get go. Today 45% of its sales are online, of which half are DTC sales on subscription. Wright highlights its eco credentials (Dash is B Corp certified, and offers 'carbon neutral' delivery), though Dash also upped its online focus when it lost 60% of its sales overnight at the start of the pandemic, as out-of-home sales collapsed, with online sales growing 100% last year.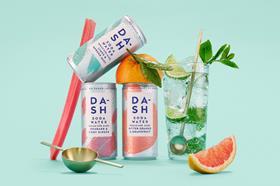 Still, the process of seeding sales via non-grocery outlets meant that as it gradually scaled its supermarket business (the first big four listing was Sainsbury's in 2019) it had "already built a groundswell" as a premium brand, says Wright, which "ensured consumers were happy to pay a higher rsp from the off". With listings accelerating and extended distribution since the pandemic, total sales grew 100%.
So what's next? "The dream would be to follow what Fever-Tree have done, list on a public market but retain control and be able to scale globally," says Wright. "We haven't needed to plug into or have the support of a multinational, that's never been the aim.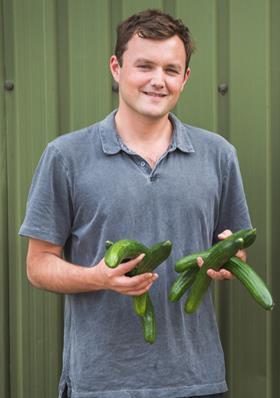 Jack Scott
Age: 31
Married? No
Best business advice I've ever received: Fill your small tent with the best quality people and magic will happen
And the worst: Chuck lots at the wall and see what sticks
The last great book I read: Quiet: the Power of Introverts in a World That Can't Stop Talking by Susan Cain
My most controversial opinion: I keep my peanut butter in the fridge
If I could have dinner with one person, living or dead: Shane Warne, RIP
"It would be amazing to produce locally in more markets. We've proved the concept in the UK and Australia and now we want to roll out on a global scale."
Wright says the brand has fared well in Australia thanks to "great investors and manufacturers" as well as the region's macro trends. "In terms of health & wellness and sustainability, it is bigger there than anywhere else I've seen, and I've visited most of the health & wellness geographies around the world."
Currently co-packed by Brothers in Somerset, further down the line, "we would love to own our own factory but the capex to fund a canning line would be minimum £5m and we're not quite at that stage yet", he says. "But once we have greater distribution and scale it would be amazing to do it on our own."
Dash plans to grow its range, too. Scott says the brand is looking at creating a format for a new "need state", perhaps moving beyond cans into alternative formats.
There's undoubtedly much room for Dash still to grow as it continues its march on UK retail. After all, it's still not even sold in Tesco, Morrisons, Co-op or M&S. But if Dash's first five years on the market are anything to go by, shoppers could be seeing a whole lot more of it over the next five.